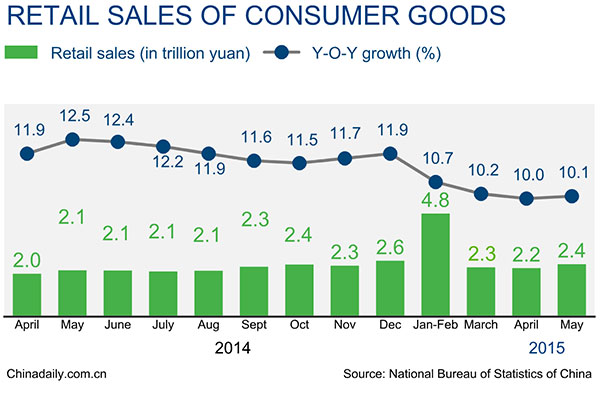 BEIJING -- China's retail sales accelerated in May, indicating that pro-consumption policies have begun to take effect.
The National Bureau of Statistics (NBS) said on Thursday that retail sales in May grew 10.1 percent year on year to 2.42 trillion yuan ($396 billion), a shade up from the 10 percent growth recorded in April.
In the first five months, retail sales grew 10.4 percent, unchanged from the rate seen in the first four months.
Growth in rural areas outpaced that in cities. Sales in rural areas rose 11.6 percent in May and at the same rate in the January-May period, in contrast to the 9.9 percent and 10.2 percent growth seen in urban areas.
Sales of food, clothes and other daily necessities in May grew 12.8 percent, 0.1 percentage points higher than April, according to NBS statistician Lin Tao.
Chinese consumers favor online shopping. In the first five months, online sales rose 39.3 percent year on year to reach 1.34 trillion yuan.
The upswing of consumption in May compares to prolonged cooling in investment. China's fixed asset investment rose 11.4 percent from a year earlier to 17.12 trillion yuan in the first five months of the year, slowing from the 12-percent level registered in the Jan.-April period.
Investment in the property sector rose 5.1 percent in the first five months of the year, down from the 6-percent increase seen in the first four months, underscoring the sector's lingering weakness.
China has been at pains to spur domestic consumption while the stuttering economy is threatened by deflationary pressures.
Consumer inflation fell to 1.2 percent in May from 1.5 percent the previous month. The target is to maintain inflation at around 3 percent for the year.
However, economists from the People's Bank of China, the central bank, said on Wednesday that it had shaved the 2015 inflation rate to 1.4 percent from its previous forecast of 2.2 percent.
Falling price levels may be a bonus for consumers in the short term, but factories are likely to postpone investment and the prospect of continued price drops will mean people will hold back on spending.
To encourage domestic spending, China cut import duties on consumer goods by an average of 50 percent, starting from June 1. The duty on cosmetics was reduced to 2 percent from 5 percent.
The State Council, China's cabinet, said on Wednesday that private capital, foreign and domestic banks, as well as Internet companies would be allowed to set up "consumption finance" firms, which can extend small loans to the public.
Alibaba has already launched such a service, which offers loans to buy goods on its online shopping site Taobao. The money is repaid in installments.