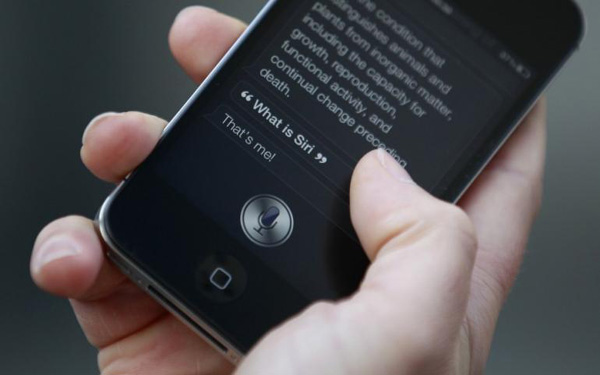 An iPhone 4S user interacts with Siri. [Photo/China Daily]
Beijing High People's Court recently ruled in favor of Apple Inc over the Chinese patent authority for a patent on voice recognition technology. But a Shanghai-based company has decided to appeal.
Beijing No 1 Intermediate People's Court ruled last July against Apple, which sued the Patent Review Committee under the State Intellectual Property Office, requiring it to revoke the patent for Xiao i Robot, owned by Shanghai Zhizhen Network Technology Co Ltd.
Apple said that the technology violated the patent on its Siri voice recognition software.
The dispute started in 2012, when Zhizhen filed a case in a Shanghai court against Apple for infringement of intellectual property rights, claiming that Siri violated its patent for "a type of instant messaging chat robot system", Xinhua News Agency reported.
Xiao i Robot was first put into use in 2003 as a chat bot for MSN, Yahoo Messenger and other chat programs, and later expanded to iOS and Android systems.
Siri, on the other hand, made its debut with the release of the iPhone 4S in 2011. It was first developed in 2007 by Siri Inc, a start-up company acquired by Apple in 2010.
According to the latest ruling, SIPO will reexamine the validity of Zhizhen's patent.
The attorney for Apple said that the patent document of Xiao i Robot failed to describe in detail how it works, and the patent contained little innovation, reported China Business News.
Their opinion won support from the higher court.
Representatives of Zhizhen explained to the newspaper that the patent document was written for the computer technology professionals to understand, not for outsiders.
Jia Jun, chief analyst at patent research and management firm PatSnap, said that the focus of the dispute is whether or not the patent for Xiao i Robot has publicized all its technical solutions.
"SIPO was tolerant in interpreting the patent document filed by Zhizhen, but the higher court had stricter judgment," Jia said. "Its ruling said that the patent did not clarify how to realize game functions, what types of sentences to use in the interaction with game servers or the composition of the servers, so the patent should be invalidated."
He said the verdict "technically announced Apple's victory".
Wang Yuquan, an investor of Xiao i Robot, said that he was "still optimistic" about the result of the dispute. "We will have what should be ours, even in the reexamination," he said.
"I believe there is no doubt about Xiao i Robot's IP rights."
Yuan Yang, attorney for Zhizhen, added that the Patent Review Committee "has been supporting the validity of the patent for Xiao i Robot".
Industry insiders said both Apple and Zhizhen would find it difficult to lose the case.
If Apple fails, it will pay a large fine and Siri might be banned in China. And if Zhizhen fails, it will lose its patent.
"If Zhizhen wins against Apple, it will be given confidence to challenge all products with voice recognition and interaction functions, such as smart mobile terminals, wearable devices, even automatic vehicles," said PatSnap analyst Jia.