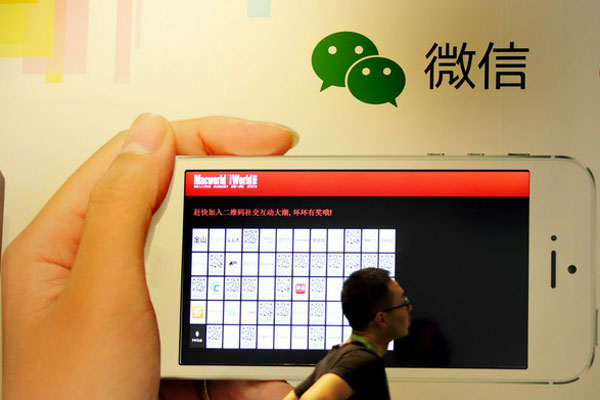 WeChat, now China's biggest instant messaging platform, is expanding its horizons and has become a primary e-commerce platform in its own right. [Provided to China Daily]
A new survey has found that most WeChat users are not happy with the ads service that's been added to the Moments function.
Recent online voting conducted by China Central Television shows more than 80 percent of WeChat users consider the ads to be commercial harassment.
"I am disgusted with it. WeChat Moments is a platform that should help me learn what's going on with my friends and let my friends know what I am doing now. Ads among my friends' feeds is an annoyance."
The popular messaging app, owned by Tencent, began testing sponsored ads last week.
The ads are pushed to 200 million WeChat users daily.
Zhang Jun, spokesman for Tencent, says the company attaches great importance to the user experience.
"An ad will appear in a place no higher than the fifth post on the page. A user will receive only one ad within a certain period of time while it will disappear automatically if left unnoticed for hours."
Brands invited to take part in the test include BMW, Coca-Cola, and Cadillac.
Users receive different ads depending on their past behavior, and are invited to "like" and post comments.
This promoting strategy soon triggered a stir.
Many WeChat users have mocked it, some with self-deprecating humor, noting that they've been identified as being able to afford only a bottle of coke, while others receive ads for automobiles.
Experts suggest that besides ad content and the way it circulates, marketers should also pay attention to how users "like" an ad recommended by friends.
WeChat boasts more than 450 million monthly active users.
But despite a drastic increase in user population, it has struggled to monitize that user base.