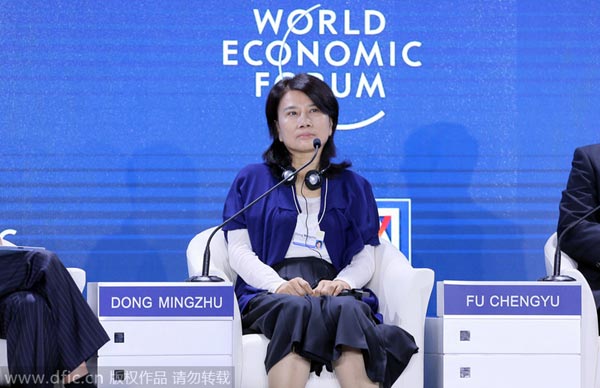 Dong Mingzhu, chairwoman and president of Gree Electric Appliances, speaks at a sub-forum of the World Economic Forum 2014 Summer Davos in Tianjin, China, Sep 10 2014. [Photo/IC]
Gree chair-woman says it will never pursue short-term goals, such as scaling up in size
It is not easy to miss the massive complex in the Pearl River Delta city of Zhuhai that houses the headquarters of the State-owned Gree Electric Appliances Inc.
While the company is often showcased as a shining example of entrepreneurial success in China, its top executive has often been cited as one of the leading icons of the economic revolution that made China a global manufacturing powerhouse.
Dong Mingzhu, the chairwoman and president of Gree, a domestic home appliances manufacturer, however, does not believe in such laurels. Rather, she knows she has her task cut out, as the company needs to keep adapting to the fast-changing market environment to retain its market share and profits.
"We have a clear vision on the road ahead. Gree will never pursue short-term goals like scaling up in size or being a part of the world's top 500 companies. These are certainly not our goals," said Dong.
"I have a dream-that is for Gree to develop in a healthy and sustainable way. My vision is to develop Gree as a century-old business that is responsible for its employees and the society," she said.
The company has managed to achieve annual revenue in excess of 20 billion yuan ($3.2 billion) since 2011 and this, Dong said, would provide a stable platform for future growth.
"Gree needs to grow as an evergreen tree, energetic and full of vitality. We will not become a willow-whose leaves will fall after a short-term prosperity full of branches and leaves," Dong said.
The 61-year-old Dong has over the past 25 years been an integral part of the ups and downs in Gree's transformation.
She joined the company in 1990 as a sales agent and four years later became the sales director after Gree saw an exodus of sales managers.
Her efforts and hard work seemed to have paid off when Gree increased its sales from just 400 million yuan in 1994 to more than 2.8 billion yuan in 1995.
"We introduced a corporate structure system, which put us on a healthy development path," Dong said.