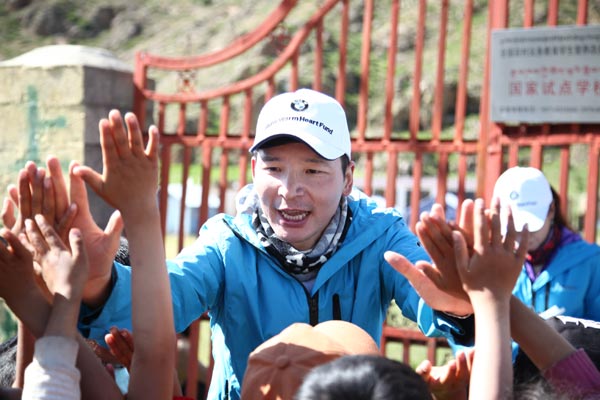 Volunteers waving goodbye to students in the area. [Photo/China Daily]
Though suffering from serious altitude sickness, Chen Yong continued two days of volunteer service in the Yushu area of Qinghai province in July.
It was the third time the entrepreneur in green energy technology traveled to the remote area to help local schools and families.
"I needed to fulfill my promise to Dailai Yongcuo and local students," said Chen.
The young BMW M3 customer caught sight of a visually handicapped girl during his first volunteer trip to Yushu in 2011, and then communicated with other BMW customers across the country-from Yushu to Xining, Chengdu and Beijing-to provide medical support for the 7-year old girl.
After an operation in 2012, Dailai's eyes recovered basically. "I am so happy to see her clear eyes smiling," said Chen.
He is just one of more than 150 BMW customers, dealers and associates organized by the BMW Warm Heart Fund in cooperation with China Charity Federation that volunteered in the highlands of Yushu. They have made eight visits since the area was hit by serious earthquake in April 2010.
The volunteers brought winter necessities and stationery to more than 3,000 students living in Xialaxiu Center Boarding School and its rural primary schools. They also taught and played games with the young students.
Some 22 volunteers arrived in Yushu a week ahead of one charity weekend-in time to teach in two village primary schools.
The program also included an environment observation project and study at altitudes close to 5,000 meters above sea level.
Li Yuelu, a BMW customer from Wenzhou, Zhejiang province, became a teacher for a week to students in Lawuga Village Primary School after he was first touched by children there last August.
"They are happy to learn anything from outside their hometown and they are as smart as the children in big cities.
"We can take a short time out of our busy lives for a teaching relay for these children eager to learn," said Li.
The environmental study led by experts from Shan Shui Conservation Center collected grass samples, and monitored snow leopard and rock goat traces, part of research into the Sanjiangyuan region, source of the Yangtze, Yellow and Lancang rivers.
"Social corporate responsibility, or giving a return society, is as important as our business here in China," said Karsten Engel, president & CEO of BMW Group Region China.
"By providing a trusted platform for our valued customers and dealers across this big country, BMW can involve as more volunteers into this family to help people in need," he said.