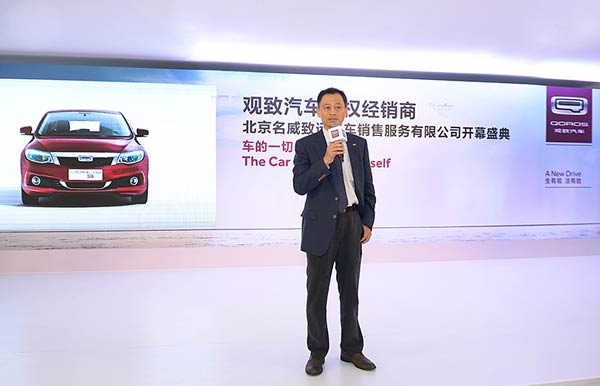 Qoros Automotive Chairman and CEO Guo Qian speaks on Aug 6, 2014, at the opening ceremony of its first authorized dealership and a city showroom in Beijing. [Photo provided to chinadaily.com.cn]
International automaker Qoros Automotive, a joint venture between Chery Auto and Israel Corp, announced last week it will open its first authorized dealership and a city showroom in Beijing.
"They coincide with the launch of our second production model, the Qoros 3 Hatch, which will strongly support the steady expansion of the Qoros dealer network and the development of the company as a whole," said Chairman and CEO Guo Qian.
"In conjunction with our Beijing dealer, Qoros will strive to provide Beijing consumers with high-quality products and personalized services," Guo Qian said.
The showrooms located in the capital city's Chaoyang and Shunyi districts will provide traditional car sales services and "an innovative high-tech customer experience" with simulations of car configurations and multimedia entertainment systems, said the company.
Wang Xin, general manager of the authorized Beijing Mingwei Zhiyuan Auto Sales Service Co, said his company decided to join with Qoros from the very beginning because of its international management team, high standards and strict requirements for product quality, as well as positive feedback on the first two Qoros models.
"We believe Qoros will win consumer recognition in Beijing's extremely competitive auto market," said Wang.
Qoros has launched two production models since the brand was born seven years ago.
After its first production model the Qoros 3 Sedan hit the market last November, Qoros has seen a rapid rise in brand recognition due in part to marketing events such as the Qoros 3 Sedan national tour and a class for Qoros owners.
The brand is now recognized by 40 to 60 percent of residents in cities with its dealerships, seven times the previous figure, said the company.
The carmaker now has 44 dealerships, with the number expected to reach 100 by the end of the year, including about 30 that are under design and more than 30 presently under construction.
Stefano Villanti, Qoros executive director of sales and marketing, said the opening of the Beijing dealership and city showroom "will further strengthen the sales network and help us reach 2014 sales and development targets". Fulfilling a promise to roll out a new product every six to 12 months, Qoros launched its second production model, the Qoros 3 Hatch, in June.
The model won a Red Dot Award, an international industrial design accolade given for its core design concept of elegance, simplicity and attention to detail.
This award comes as a strong endorsement of Qoros' commitment to creating best-quality products among mainstream brands, said the company.
Using a wide array of communication approaches, Qoros also started a marketing campaign in the main cities with its dealer stores themed "A Car Speaks for Itself". In the second half of the year "Qoros will work closely with its dealers across the country and launch a series of original marketing activities to enhance brand recognition and create a resonance with target consumers", said Villanti.