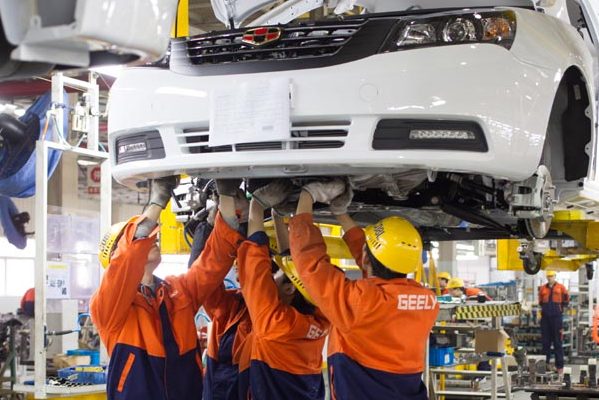 Chinese brand Geely has set environmental standards for its supply chain and production. [Photo/China Daily]
Despite their lackluster market performance, Chinese automakers are doing a better job than their foreign counterparts in corporate social responsibility, according to a recent report by the China Association of Automobile Culture.
Based on a survey of 39 companies in China from March to June, the report shows 87.5 percent of Stateowned companies have made social responsibility part of their development plan, 12.5 percent more than foreign companies.
It also found that 87.5 percent of SOEs have established departments dedicated to social responsibility programs, compared to 75 percent of overseas companies and 66.7 percent of private firms. The report also reveals the relative importance of CSR recipients as ranked by respondents. The top three are investors, customers and communities followed by employees, supply chains, governments, dealers and the environment.
The low ranking of the environment could be because some companies regard it as part of communities, said the association.
Environmental protection is actually a recurring theme in many automakers' social responsibility programs.
Four of 22 projects the association cited in a booklet of cases by the end of June were connected with energy conservation and tree planting.
The number of environmental initiatives followed only educational causes, which accounted for nearly a third of all cases.
The report also said automakers and other companies in the industry are also placing greater importance on staff training, technical innovation and close engagement with suppliers and partners.
The survey found more than 80 percent of those polled have a strict evaluation of their suppliers' daily operations, 80 percent will deepen cooperation with their partners and nearly 70 percent offer help to their dealers.
Citing an example at Geely, the report said the automaker demands its suppliers not use chemicals that pose dangers to human beings and the environment.
It also mentioned that BMW introduced the concept of sustainable development to encourage its dealers to make greater contributions to local economic development and employment.
This indicates that automakers are also helping other companies along the whole industry chain assume responsibility, said an official at the association's secretariat.
Guo Jun, a legal expert at the All China Federation of Trade Unions, believes compassion should start at home.
"Employees should come first in a company's social responsibility program as they are the most valuable asset."
He said what comes next should be fair competition and environmental protection, adding they are the preconditions for a company to care about people and society.
Guo said while some automakers are doing a relatively good job, others who usually simply make donations should deepen their understanding of social responsibility.
"Sometimes companies made donations not out of responsibility but hoped it would work as advertising."