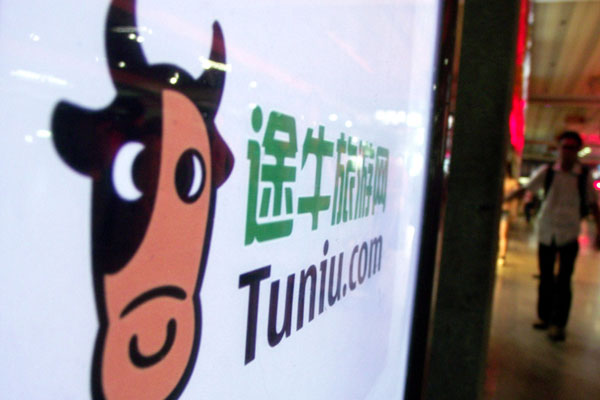 A pedestrian walks past an advertisement of online travel agency Tuniu.com in Nanjing city, East China's Jiangsu province, June 12, 2013. [Photo/dfic.cn]
NEW YORK - Tuniu Corporation, a Chinese online leisure travel company, on Friday launched initial public offering (IPO) on the Nasdaq market and raised about $72 million.
The company priced its IPO at $9 a share and sold 8 million shares. The stock, trading under the ticker "TOUR," closed at $10.07, 11.89 percent higher than its IPO price, and its market value reached $80.6 million, according to a statement of the company.
The company, based in Nanjing, East China's Jiangsu province, said the funds raised will be mainly used to increase the number of departure locations and service centers, improve mobile services as well as research and development.
Donald Yu (Dunde Yu), co-founder and chief executive officer of Tuniu, told Xinhua that China's tourism industry features rapid growth of overseas travel, transformation from PC to mobile devices, and higher expenditure of individual trips, areas in which Tuniu has developed advantages.
Alex Yan (Haifeng Yan), co-founder and chief operations officer of the company, said Tuniu had developed a chain connecting suppliers and retailers, which has significantly increased efficiency.
Tuniu offers a large selection of packaged tours, including organized and self-guided tours, as well as travel-related services. Its services cover more than 70 countries and most popular tourist attractions in China.
Although US stock market has been in corrections in recent months, an increasing number of China-based companies launched their public offerings in the market, reflecting US investors' great interests in these Chinese companies, especially in internet companies.
Cheetah Mobile, a Chinese mobile internet company, made its trading debut on the New York Stock Exchange Thursday, while China 's e-commerce giant Alibaba Group Holding Ltd also filed its IPO report in the United States late Tuesday, in hope of raising $1 billion.
Before them, China's IT education provider Tarena International, privately held medical services provider iKang Healthcare Group, micro-blogging site Weibo and online-to-offline real estate services firm Leju also got listed in the US stock markets earlier this year.