New frontier of resource wealth beckons Chinese
Updated: 2013-04-02 07:49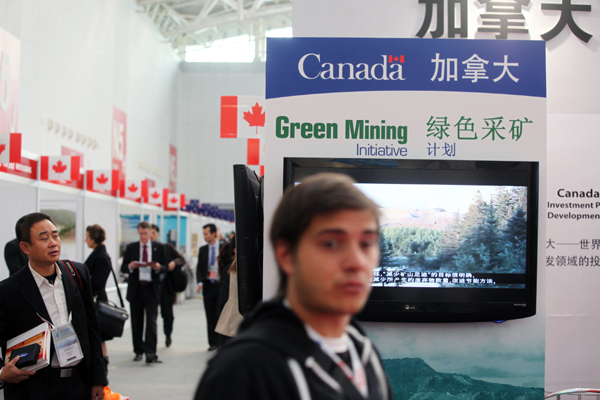 The Canadian booth at a mining conference in Tianjin in 2011. Canada contains abundant deposits of copper, chromium, zinc, nickel, platinum, vanadium and gold. Provided to China Daily
Canada's northern territories offer rich opportunities for mining companies, reports Eddy Lok
Escalating costs and volatile exchange rates have meant tough times for the global mining sector, but Canada in coming years could see steady interest from Chinese companies drawn to its reserves of minerals and other resources.
Trade lawyers familiar with them said Chinese companies in the sector are well suited to invest in the vast mineral wealth of Canada's far north - an area almost half the size of China - thanks to favorable mining laws and policies.
"It is a great buying opportunity for Chinese companies and a perfect time for us to marry investors looking for expansion globally," said Ian McBride, a partner in Toronto-based law firm Davies Ward Phillips & Vineberg LLP, which has been active in China since the 1970s. Chinese clients have hired the firm to work on takeover bids for foreign public companies, minority-stake purchases, joint ventures and other legal matters.
McBride and fellow Davies Ward partner Peter Mendell, speaking at the site of a March 4 symposium in Toronto on mining and China, said Canada is increasingly open for Chinese investment in its natural resources, especially compared to traditional mining destinations such as Australia.
Canada could become a magnet for Chinese mining companies looking to expand abroad, including by purchasing stakes in publicly traded Canadian companies with domestic and foreign assets, the two lawyers told China Daily at the symposium, which was organized by the Canada China Chamber of Commerce and the China Mining Association.
"We don't expect a tidal wave of, or reckless, Chinese investments, but such will be carefully thought out, taking into consideration the risks and factors like financial and infrastructure," McBride said.

He said it's clear that Chinese companies are interested in assets in the three territories that make up Canada's far north - Yukon, the Northwest Territories and Nunavut - buoyed by the Canadian government's welcoming policies in anticipation of a boom in mineral exploration and development.
In addition to untapped minerals in the region, several mining companies listed on the Toronto Stock Exchange have acquired leases to explore reserves in other countries. That provides further enticement for Chinese investors, said McBride, who expects that foreign investment in Canadian assets will take the form of joint ventures and minority stakes in domestic companies.