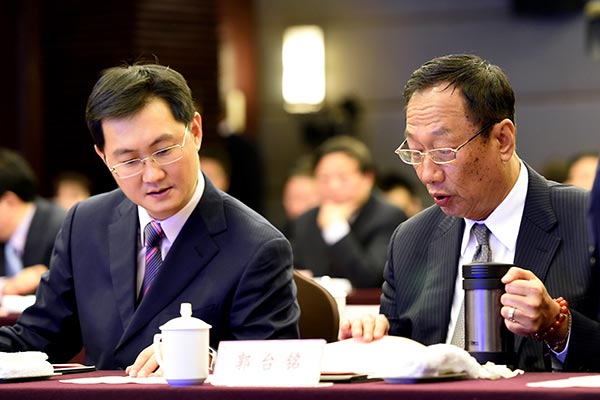 Chairman and CEO of Tencent Pony Ma Huateng (L) and Foxconn's CEO Guo Taiming attend the cooperation signing ceremony of Foxconn, Tencent and China Harmony Auto on March 23, 2015 in Zhengzhou, Henan province of China. [Photo/VCG]
Future Mobility has previously said it plans to create a "premium brand with Chinese roots and a global reach". Besides Breitfeld, the company has hired Daniel Kirchert, the former head of Infiniti China, as chief operation officer.
The company will base research and development in Shenzhen, where it is headquartered, and have R&D units in Europe and Silicon Valley to focus on powertrain and autonomous driving, respectively, according to the people. Future Mobility also plans to have a plant in China assembling autonomous electric vehicles.
Tencent is Asia's biggest internet company, while Foxconn is a key maker of iPhones, iPads and other Apple Inc products.