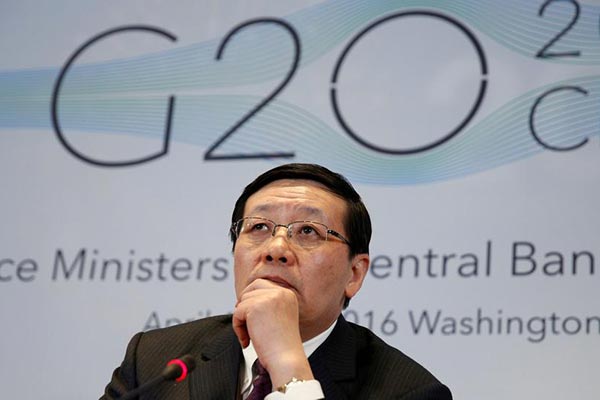 Chinese Finance Minister Lou Jiwei looks up during a G20 press conference at the IMF and World Bank spring meetings in Washington April 15, 2016. [Photo/Agencies]
The US needs to recognize that it and China are mutually dependent on each other and their economic cycles are intertwined, according to Finance Minister Lou Jiwei.
"We have more in common than sets us apart," Lou said in an interview with The Wall Street Journal published on Sunday.
Asked to comment on Republican presidential candidate Donald Trump's stance on protectionist policies, Lou said, "Trump is an irrational type."
Trump has proposed tariffs of up to 45 percent on Chinese imports to force Beijing to change its trade policies, and Lou added, "If he were to do this, it would be in violation of the rules set by the World Trade Organization.
"If the US were to do what Trump proposed, then the US would not be entitled to its position as the world's major power."
Lou cautioned against taking the rhetoric in a presidential campaign too seriously, adding, "With a new administration, US-China ties should be more or less as they are now."
Lou gave the interview on the sidelines of the G20 finance ministers' meeting in Washington during the weekend.
Leaders of the G20 will meet in Hangzhou, Zhejiang province, in September.
Trump, the front-runner in the Republican Party's presidential nomination race and its primary in New York State on Tuesday, said that if he is elected president, China "will learn to deal fairly and justly or we will not deal at all".
In a statement from his campaign issued on Sunday, Trump said China is "in total violation of WTO regulations" and the US "has incompetently allowed (it) to get away with this" and has failed to impose "equal or greater taxes and tariffs" on China.
At a campaign rally on Staten Island, New York, on Sunday, Trump said: "I'm not angry about China, in fact I respect them. I'm angry at our leaders for being so incompetent that they allow it to happen."
Trump's proposed 45 percent tariff has been criticized by US economists, Democrat presidential contenders and others, including his closest challenger, Texas Senator Ted Cruz, who said that it would be passed on to US consumers.
Wayne Morrison, a specialist in Asian trade and finance at the Congressional Research Service, said Trump's tariff proposal would not make much sense.
"No country can on its own impose trade restrictions that would violate its WTO commitments," he said.