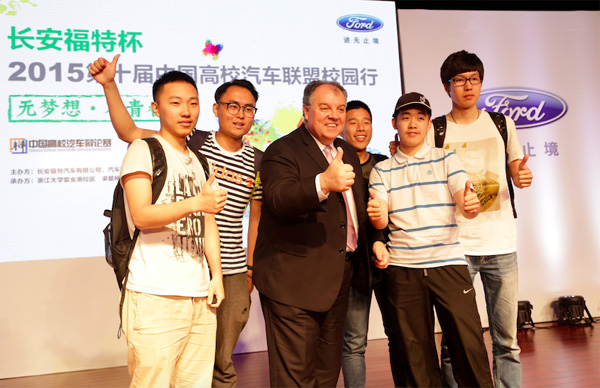 Changan Ford CEO Marin Burela appears with Zhejiang University students. [Photo/China Daily]

Changan Ford is following its brand promise of "Go Further" in China by sponsoring college debates, offering driving skills training on campus and nurturing young athletes.
"We strongly believe that young people are the lifeblood of the country-and of any great company that wants to be successful," said Marin Burela, president and CEO of the joint venture between Ford Motor Co and China's Changan Automobile Co.
"Our success comes from your success. It is our responsibility to nurture, encourage, and support the ongoing development of young talent."
Burela made his remarks to students at Zhejiang University in Hangzhou after the 2015 auto-themed debating competition began on May 10.
Started in 2006, the annual event will this year involve teams from 27 major universities across the country and many students are also expected to attend the Ford Driving Skills for Life campaign.
Changan Ford started the training session in 2009 in an effort to advocate for road safety and improve fuel economy.
By the end of 2014, the campaign had benefited more than 21,000 people in 270 Chinese cities. Another 4,800 drivers will receive training this year, according to Changan Ford.
"We will always remain committed to our brand promise of 'Go Further', by serving the communities in which we live and work, and supporting young Chinese people in the pursuit of their dreams and aspirations," Burela said.
"By supporting this event, we strive to fuel further innovation and upward mobility in China, by championing causes that bring harmony and prosperity to our communities."
Burela also encouraged college students to "go beyond yourself to become the captains of industry, to lead your country from the engine room of growth and innovation, further along the path of prosperity".
Rapid growth
He shared his dream, saying he hoped to grow Changan Ford into a respected company when he arrived in China fi ve years ago.
Thanks to the efforts of Burela and his colleagues, the joint venture has become one of the fastest-growing automakers in China.
Changan Ford ranked sixth in terms of sales volume in 2014. It sold more than 800,000 vehicles that year, an 18 percent rise from 2013, almost three times the Chinese auto industry's average growth rate.