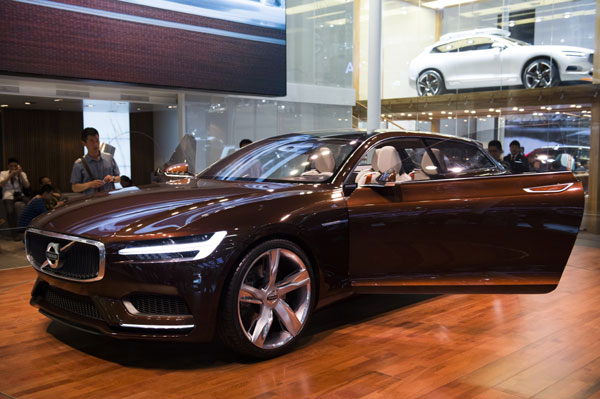 A new model of Volvo at an international auto expo in Beijing. Volvo, bought by Geely from Ford Motor Co four years ago, will launch its XC90 SUVs next week for the premium market that is dominated by German rivals. [Photo/Xinhua]
First new model from China parent will be spruced up SUV, the XC90
With headlights shaped like Thor's hammer and space for a humidity-controlled cigar case, Volvo's new cars are sporting luxury features and designer glitz to catch the eye of the booming Chinese market and shed their safe-but-dull skin.
The XC90 SUV launch on Aug 26 will be make or break for a company moving into a premium market dominated by German rivals.
It will be the first fully new car under Chinese parent Zhejiang Geely Holding Group Co, which bought Volvo from Ford Motor Co four years ago, and heralds the revamp of its entire product range to more upmarket models.
It follows a five-year, $11 billion investment program aimed at doubling Volvo sales, which for two decades have been stuck at around 400,000 cars a year.
The company hopes the new line will reverse declining sales in the US but must persuade customers to spend up to 100,000 euros ($133,700) for a brand many associate with functional family cars.
Volvo CEO Hakan Samuelsson said prices will be at the same level as competitors. "Customers should not expect to buy them cheaper than an Audi," he said.
The new cars aim to reconcile strategic tensions in the 87-year-old carmaker, which remains wedded to Scandinavian understatement, greenness and an emphasis on safety, but also wants to make swanky cars that will seduce affluent Chinese customers away from the likes of BMW, Mercedes-Benz and Audi.
The XC90 has anti-collision detectors that will brake the car on dangerous left turns, and the company says its four-cylinder engine is an industry beater in terms of combining power with low emissions.
But the first preview of the car, for a small group of journalists at the company's headquarters in Gothenburg, shows design is to the fore.
The seven-seater features a sleeker logo, and inside are Scandinavian touches of light wood and leather, a tablet-like, touch-screen control panel, and a minimalist dashboard. The head of the gear stick is Swedish crystal.
Alain Visser, chief marketing head, Volvo said: "This is Scandinavian design without the bling-bling. The XC90 is a signal that we are here as a premium brand. It is a signal that other models are going in that direction."
The XC90 will be followed next year by a S90 sedan, aimed at the United States and China, which could become the world's biggest premium market by 2020.
Last year, Volvo owner Li Shufu was reported to have called Volvo's interiors "too Scandinavian", and the rollout of the new cars will show that Volvo has accepted many of the Chinese demands to make its cars more appealing to China's wealthy.
Philippe Houchois, an analyst at UBS, said that the "Chinese wall has thawed".
Li's influence can be seen in the XC90 four-seater, which is aimed at Asian executives with chauffeurs.