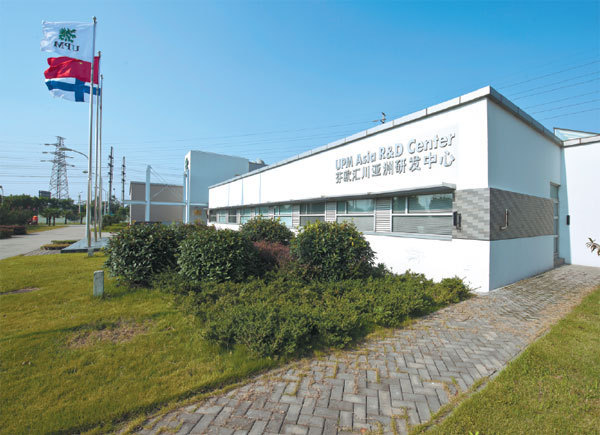 UPM's R&D center in Changshu, Jiangsu province conducts research in biomass, paper, pulp and electronic labeling. Provided to China Daily
Company executive's new motto: 'We treat the air as if it were our own air'
When heavy smog in Shanghai last November caused his 2-year-old daughter to develop a bad cough, Kim Poulsen, executive vice-president of UPM Paper Asia, temporarily sent his family back to Finland.
On his own in Shanghai, Poulsen started to think about the investment plan the company had approved in 2012 and which he had been asked to analyze before the company went ahead with the project.
"Can I be the guy to go to the board and promote the idea of building a new boiler to burn coal and put more soot in the sky?" he asked himself.
He decided he could not.
He looked at the project again and decided to make the boilers more energy efficient and added the best filtration technology that money could buy.
As a result, the amount of energy used to produce 1 metric ton of paper is 65 percent lower than 10 years ago in UPM Changshu paper mill. In addition, UPM Paper Asia uses only 25 percent of the amount of water set by the industry to produce one ton of paper.
"The mills recycle 98 percent of the water taken from the Yangtze River," he said.
The cost of making the mills cleaner and more environmentally friendly is 301 million yuan ($48.9 million) and Poulsen is proud to have to have spent the money.
"We are hungry to deliver short-term profits but are not willing to do it by compromising UPM group values, policies and our long-term strategy. We don't like to come to China and take the resources, land, water and air for granted. We treat the air as if it were our own air," he said.
UPM Paper Asia started construction of a third production unit at its Changshu mill in June this year. The new unit is due to become operational in 2015 and will strengthen the company's leading global position as a high-quality supplier of labeling materials and will serve the growing Asian markets with a wide range of labeling materials and specialty products.
"UPM has set clear targets for focused growth initiatives over the next three years in biofuels, specialty papers in Asia, label materials and pulp production," said Jussi Pesonen, UPM's CEO and president.
"With these initiatives, we are targeting an additional 200 million euros ($267.8 million) in earnings before interest, taxes, depreciation and amortization when in full operation. The return on the Changshu investment is attractive and is expected to bring a significant contribution to our EBITDA growth target."
UPM Paper Asia's operation consists of the UPM Changshu paper mill in China together with the labeling and packaging materials production lines of the UPM mills in Finland. Its main customers are retailers, printers, publishers, distributors and paper converters.