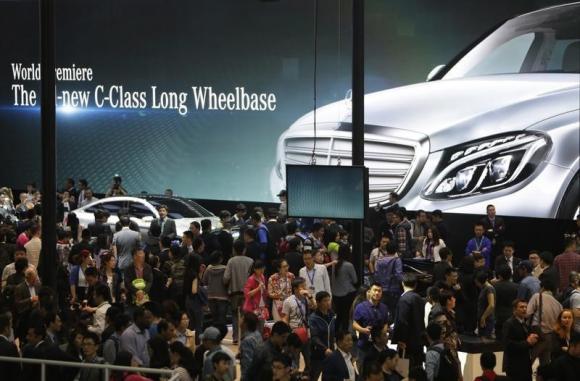 People look at new Mercedes Benz cars at Auto China 2014 in Beijing April 20, 2014. [Photo/Agencies]
German carmaker Daimler expects its Mercedes-Benz brand to overtake rivals Audi and BMW by number of cars sold in China this year as its new strategy for the world's biggest car market starts to bear fruit, a board member told a newspaper.
"With the new S-Class model, we will overtake our competitors again. And 2015 will be even better," Frankfurter Allgemeine Zeitung quoted Hubertus Troska, management board member in charge of Daimler's business in China, as saying in an excerpt from its Monday edition.
Mercedes-Benz's previously strong momentum in China - where demand for luxury cars is forecast to surpass that of the United States by 2020 – stalled in 2012, with sales volume falling far behind BMW and Audi.
It presented a strategy in August that included plans to launch around 20 new or upgraded car models in China over two years as it seeks to boost sales of Mercedes-Benz cars in China by a third to more than 300,000 cars a year by 2015.
Troska told Frankfurter Allgemeine he was taking a "very, very positive" stance on the company's prospects in China.
"We are learning to understand China better and using that in our product development. We were a bit behind in that area," he said.
The company will open a new design studio in Beijing this summer, while shutting another in Tokyo, and will double the number of engineers it employs in China over the next two years, from 230 currently, he said.
He also said Daimler now saw the launch of the DENZA electric car, a local Chinese brand jointly developed with Chinese partner BYD, at the end of 2014, compared with previous plans for September.