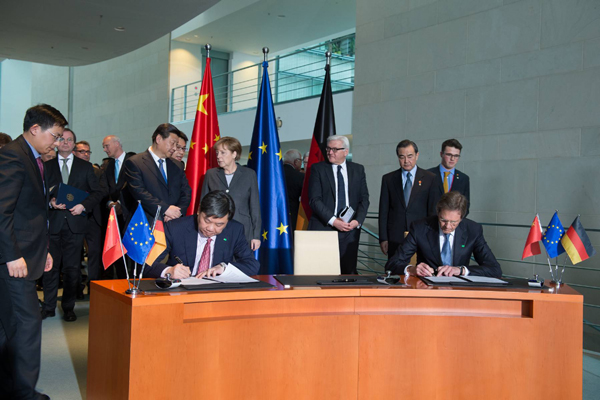 President Xi Jinping and German Chancellor Angela Merkel witness Jochem Heizmann,(third from left), Volkswagen board member and CEO Volkswagen Group China, signs investment agreement with Chen Hong (second from left), CEO of SAIC Motor Corp in Leverkusen, Germany, on Friday.[Photo provided to China Daily]
German automaker Volkswagen AG signed joint declarations with its Chinese partners on Friday.
Volkswagen will partner SAIC Motor Corp and First Automotive Works (FAW) Group to develop and begin production of new-energy vehicles in its largest market from 2016. Chinese President Xi Jinping and German Chancellor Angela Merkel were at the signing ceremony.
"Volkswagen has already been a reliable partner for the People's Republic of China for 30 years," said Jochem Heizmann, Volkswagen board member and CEO Volkswagen Group China. "We will continue to set the standard in the Chinese automotive industry with highly-efficient engines and forward-looking technologies."
Further development of eco-friendly models and a joint research project were agreed for Shanghai Volkswagen while development and manufacturing of a new, very eco-friendly vehicle in China was agreed with FAW.
The projects are part of 18.2 billion euros ($25.1 billion) in investment for new plants and products that Volkswagen and its partners are making between 2014 and 2018. It will be the largest-ever investment in China's automotive industry.
"The joint development for new energy vehicles for the Chinese market is a big step for both Volkswagen and our partners," Heizmann said. "We are providing varieties of new energy solutions to Chinese customers."
He told China Daily that this year Volkswagen will import electric up!, e-golf and Audi A3 e-tron models.
"The import of hybrid models will follow in 2016 and then we will start to locally produce the plug-in hybrids under MQB and MLB shared modular construction platforms in China," he said.
Heizmann said Volkswagen's current focus is the plug-in hybrid due to its feasability and cost.
"For the next several years, battery technology still needs further development," he said. "We are also making efforts to further improve fuel efficiency and exhaust with gearbox and engine technologies, along with lightweight solutions and aerodynamic designs. The combined strategy is leading us to our target of achieving the average vehicle fuel consumption of 5 liters per 100 km by 2020."
Agreement was also reached on expanding production capacity at the FAW-Volkswagen joint venture. A location has not been selected.
Volkswagen wants to produce more than 4 million vehicles annually in China by 2018.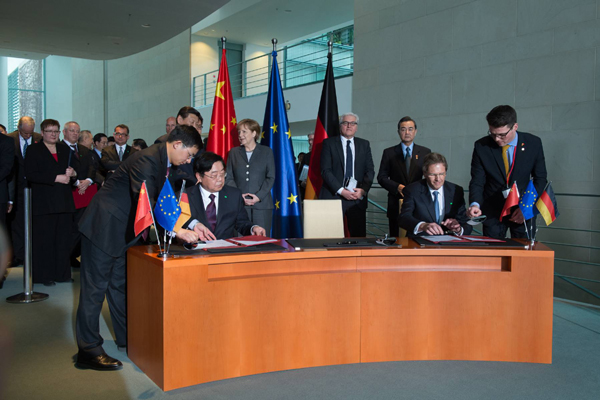 President Xi Jinping and German Chancellor Angela Merkel witness Jochem Heizmann,(third from left), Volkswagen board member and CEO Volkswagen Group China, signs investment agreement with Xu Jianyi(second left), CEO of First Automotive Works (FAW) Group in Leverkusen, Germany, on Friday.[Photo provided to China Daily]