A bunch of metallic flowers drooping down. Alien pods nesting on an elongated base. A lot of chubby balloons tied up together. No matter how many times you look at this sculpture something new will come to your mind. Its function,in any case,is quite obvious. This is a street lamp that has a futuristic,neoteric and natal design. Complex and biological forms like this are fast replacing the clean cut and streamlined designs that were in fashion up till now.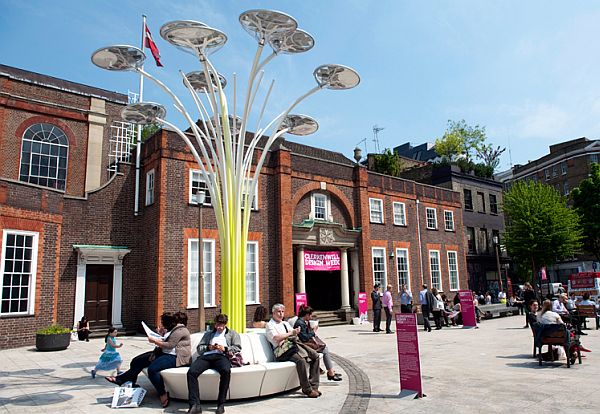 The design dubbed as solar tree has been crafted by Ross Lovegrove. Its sculpture like beauty gives a new dimension to the shape and form of street lights that have looked dull and unsightly so far. The urbane and striking design will totally transform the look of future streets and cities. The way this design is sturdy and mechanized but also aesthetic and delicate is quite extraordinary.
Solar panels as well as LED lights have been outfitted together in it. The light can illuminate for three days nonstop using only solar power. It also works with grid technology. The Al system slotted in it is programmed to switch LED lights on at night automatically. The intensity of the luminescence can be adjusted depending on energy level of the batteries or the irradiation in its surroundings.
The unit shown in the picture above has been put together for the UK installation at St. John's square in London. It stands there until late September this year for the Olympic and Paralympic games. The piece churned out for Artemide will also serve as an exhibit at the Clerkenwell Design Week 2012. It has six solar panels and four large sized lights. There are also 20 stems and 10 grass like stalks jutting out.
Via:Designboom