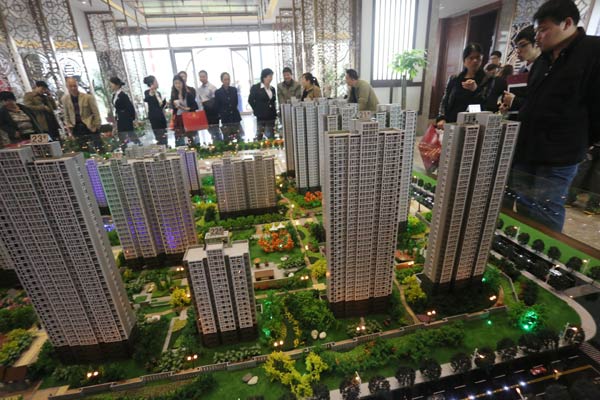 Customers check out a model of a housing project in Hangzhou, Zhejiang province. The rate cuts by the central bank last month have helped change sentiment among prospective buyers. ZHU YINWEI/FOR CHINA DAILY
Prices still fall during November, but more slowly and by smaller amounts
There are clearer signs of stabilization in the property market since the central bank's interest rate cut last month, with apartment prices in fewer Chinese cities declining in November, figures released by the National Bureau of Statistics on Thursday showed.
Prices dropped month-on-month in 67 of the 70 cities tracked by the government, compared with 69 in October, the NBS said.
The declines also eased. The largest month-on-month price fall among the 70 cities was 1.4 percent (in Dalian and Guilin), compared with the 1.6 percent maximum in October.
The figures were backed up by previously released data from private institutions. The figures vary among institutions, but for example, the average home price in 100 cities tracked by the China Index Academy, the research branch of SouFun Holdings Ltd, fell 0.38 percent month-on-month in November, marginally down from the 0.4 percent loss in October.
Price drops eased in all first-tier cities. Prices in Beijing fell 1.3 percent month-on-month in October, but the decline narrowed to 0.3 percent in November. In Shenzhen, prices even stopped declining.
The central bank's unexpected rates cut on Nov 21, combined with previous mortgage policy changes, reinforced market sentiment that the government will not allow a free fall in home prices and lured more potential buyers into the market.
The People's Bank of China cut the benchmark lending rate by 40 basis points, which means that a typical homebuyer who borrows 1 million yuan ($162,000) under a 20-year repayment term will pay 234 yuan less per month.
The slowdown in price declines was accompanied by a surge in sales, which was welcomed by developers that have been under mounting inventory pressure and realty brokerages grappling with dwindling turnover.
The rally continued this month. From Dec 1 to 15, home sales in 54 cities monitored by the China Real Estate Information Corp rose 2.83 percent over the first half of November.
In first-tier cities, conditions were even better. According to the research arm of E-House (China) Holdings Ltd, new home prices in the four first-tier cities (Beijing, Shanghai, Guangzhou and Shenzhen) rose 5 percent month-on-month in November to 23,484 yuan per square meter.
The gains in Beijing and Shanghai were less than 1 percent, but in Shenzhen prices surged 18.9 percent.
Rising sales also alleviated inventory pressures. Based on November's sales, it would take 14.6 months to clear the inventory in first-tier cities, according to E-house. In October, it would have taken 15.7 months.
"Facing reduced inventory pressure, it is likely that developers will gradually move away from promoting sales by cutting prices. Some are even trying to hike prices. There is a greater chance that prices in first-tier cities will rise next year," said Yan Yuejin, an analyst at E-house.
That assessment is supported by NBS data on the pre-owned home market. Many analysts see the market for such units in first-tier cities as a leading indicator for the new home market.
Prices in all four first-tier cities stopped declining last month for such apartments, and in Beijing, prices even jumped 0.7 percent from October.