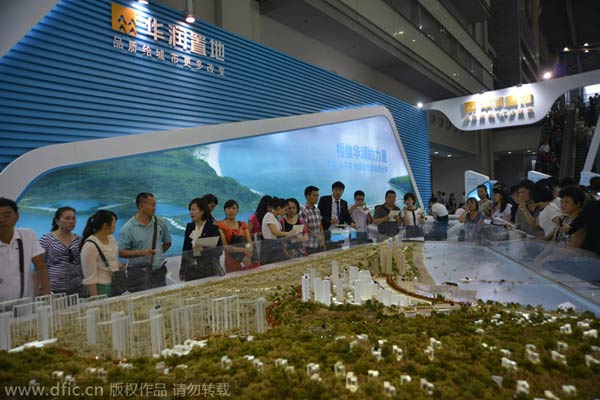 Potential homebuyers examine a property project of China Resource Land in Shenzhen, South China's Guangdong province, May 1, 2013.[Photo/IC]
Cash flow, struggling sales and high debt levels will continue to be the main issues facing Chinese property developers going into 2015, according to market analysts, who still fear that despite monetary easing policies by the People's Bank of China, many firms will continue to find problems raising funds.
Experts say that companies will have to significantly reduce debt and improve sales to improve valuation, given moribund market conditions being felt in second-tier cities.
Hong Kong-listed H shares of Chinese mainland property companies are trading at an average price earnings ratio of 5.7 times on prospective 2015 earnings, which is much lower than the market average PE of mainboard-listed H shares trading at 10.7 times.
A recent Barclay's report on noted that Chinese property shares remain undervalued, even after the market rally triggered by the cut in bank interest rates in late November.
"Investors' biggest concern has always been the potential cash flow problems of the many mainland property companies," said Alvin Wong, an analyst with Barclays Bank in Hong Kong.
"Of course property shares look attractive at their current prices," he said. But "we aren't sure which company will be the first to default on its loans."
However, overall, he still considers "the worst days (for mainland property developers) are over" and that "investor sentiment is beginning to turn positive", although analysts would still like to see real improvements in developers' balance sheets before publishing any re-ratings.
To be sure, interest rate cuts are going to help. The Chinese central bank is widely expected to further cut interest rates in the first half of 2015 to stimulate economic growth. But monetary easing has highlighted another problem facing property developers: poor sales.
The specter of further economic slowdown has already sent the property markets in many second-tier cities, including East China's Hangzhou, Ningbo and Wuxi, into a tailspin.
Many property developers are known to be stuck with massive stocks of unsold apartments that are putting a serious strain on cash flow.