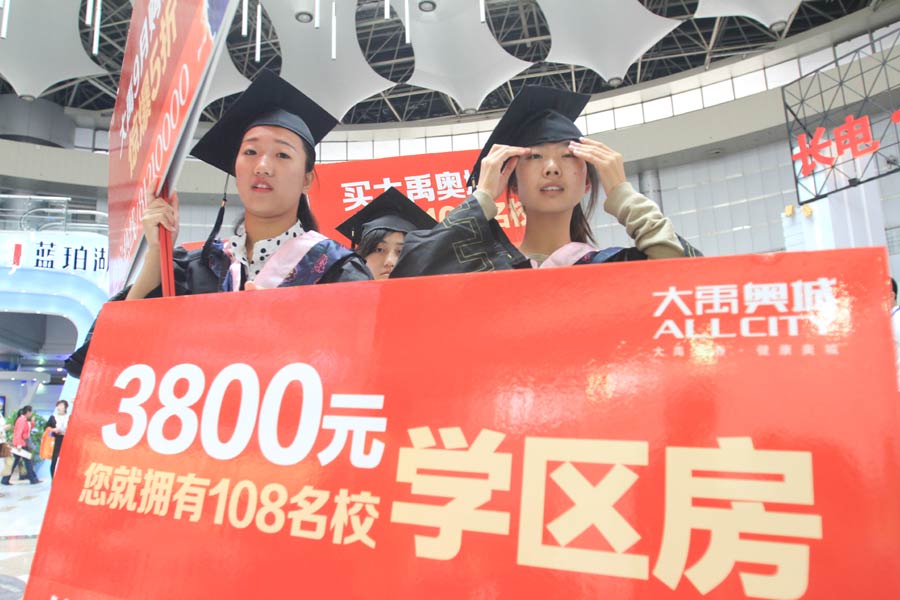 Real estate companies hire extras to dress as students and promote apartments at the Housing Trade Fair in Changchun, Jilin province on Sept 20. Prices of tinny apartments in districts that will ensure children entry to a good school are rising rapidly.[Provided to China Daily]
Parents are splashing out huge sums to purchase small apartments in areas that guarantee their children entry to the nation's best primary schools, as Zhang Yi reports.
Even by
Beijing
's jaw-dropping property standar
ds
, the asking price seemed stratospheric: 1.35 million yuan ($220,000) for little more than a 4.4 square meter box big enough to house a double bed, but nothing else.
The happy buyer who forked out way over the odds-310,000 yuan per meter-for this tiny abode on Xinwenhua Street in Xicheng district doesn't even have access to a private toilet or kitchen.
Contrast that with the relatively spacious one-bedroom, 14-sq-m apartment just down the road with an asking price of 4 million yuan-at 285,700 yuan per sq m, the place is a relative bargain.
The price disparity between the apartments illustrates the huge sums being paid for barely habitable properties that have just one redeeming feature: They are within a stone's throw of a good primary school.
Apartments within the area of good primary schools have become highly sought assets since the Education Ministry announced it would tighten the policy that links students' household registration, or hukou, with primary school enrollment. Parents with cash in hand are now lining up at real estate agencies to buy small apartments they can nominate as their main home, and will allow their children access to a decent school.
Beijing's primary schools, which are divided among 11 education districts, are only allowed to enroll children with hukou in nearby residential communities, and under the new rules, 90 percent of enrollments will sson be assigned by computer.
Price disparity
Parents' growing willingness to splash out on overpriced properties is all the more striking given that real estate prices are in retreat across the country.
In December, the average price of apartments in Beijing near good schools stood at 300,000 yuan per sq m, while on Xinwenhua Street, residential properties outside the area of the local primary school cost just 60,000 to 80,000 yuan per sq m.
Under reforms that will come into effect in 19 cities, including Beijing, next year, students will be assigned to primary schools based on their hukou. By 2017, local junior high schools will be required to ensure that 95 per cent of their students come from nearby communities.
Li Lei, 35, who has a 5-year-old son, has spent three months looking for a small apartment near the No 2 Experimental School in west Beijing where she can register the boy's hukou. A couple that recently bought a 4.4-sq-m property in the area had been extremely lucky, she said, because the supply is extremely limited.
"Prices for homes close to good schools are skyrocketing. I can't afford a regular apartment big enough to live in, so I plan to buy a studio that's as small as possible so my son can have hukou there."
Wen Yong, of the Runcheng Jiaye Real Estate Agency in Beijing, said studio apartments of between 10 to 20 square meters are the most sought-after properties, and prospective purchasers usually have to wait two or three months for one to be listed for sale.
"People buy them for the location, rather than as places to live in," he said.
Under the current regulations, banks are not allowed to offer mortgages for studios, but they have become the preferred choice for buyers instead of regular apartments, Wen said.
To supplement her savings, Li borrowed money from relatives and has managed to scrape together 1.5 million yuan in cash in the past year. However, even that relatively large sum will only buy her a 5-sq-m room in the current climate.
Li and her husband own a 100-sq-m apartment in the south Beijing district of Fengtai. However, there are there no top schools in the area and the local primary schools are all at the lower end of the education spectrum. "I have no way to send my son to a good school except to buy property nearby," Li said. "I want to buy a place for the minimum amount because I only need to register my son's hukou there. We aren't going to live in the place."
Sun Chang, a businessman and a father of two, has also joined the army of parents searching for a "location" that will guarantee his children-a 5-year-old daughter and a 10-month-old son-places at the No 2 Experimental School.
"The prices of apartments near the school are three times the going rate," he said. "There is no way demand will cool under the current enrollment policy because properties near schools have become investment opportunities."
"I have to pay for the location for two reasons," he said. "Apart from top-quality facilities including swimming pools, piano lessons, and sports equipment, good primary schools have teaching staff I can trust. Ordinary schools can't compete with that.
He added that a damaging divide is emerging between key primary schools and ordinary ones. Another concern is that high school enrollment will be also be decided by household registration.
"Location has a direct impact on my children's 12 years of education. Also, the possibility they will go to prestigious universities is higher if they graduate from good high schools. I don't want my children to be left behind at the start of their education," he said.