Smaller cities feeling the pinch of economic slowdown, says report
Chinese consumers are planning to spend less as their confidence in the economy falls, and shoppers in smaller cities especially are showing an unexpected reluctance to splash the cash, according to a report by The Boston Consulting Group released on Monday.
While what looks like a healthy 27 percent of Chinese consumers said they planned to spend more in 2013 - a percentage much higher than in developed economies - the figure was still an 11 percent drop from last year's 38 percent, said the study, which was based on an April poll of 1,000 consumers in 12 Chinese cities.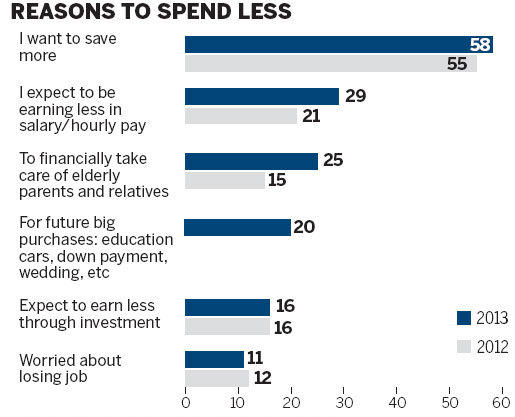 BCG said the drop was driven, in large part, by China's weakening GDP.
Last year, close to half of consumers said the economy would improve within the next 12 months, but this year's report said that figure is now 38 percent.
And while intent on spending less, Chinese consumers are also planning to save more.
The household savings rate in China reached a historic high of 38 percent of disposable income in 2012, compared with 23 percent 10 years ago, the report said.
Asked about why they wanted to save more, consumers said they wanted to support their family, or purchase expensive goods such as houses and cars.
But the main reason given for the growing reluctance to spend money, said respondents, was China's soaring property prices which were exerting a significant "squeeze" on other spending.
Some 34 percent of people not owning a property said they planned to spend less, while of those owning property, only 27 percent said they would do so.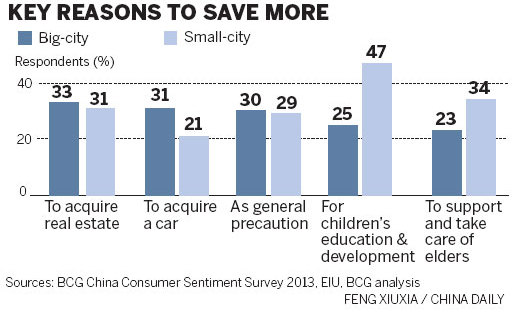 Those planning to buy a house in the next 2 to 3 years said they were now more likely to scrimp and save, with 39 percent saying they planned to spend less as a result.
In contrast, just 31 percent of people not planning to buy in the next 2 to 3 years said they planned to cut their spending.
"As long as home prices in Chinese cities, especially major cities, do not ease, Chinese consumer spending will not see a big rise," said Jeff Walters, a partner and the managing director of BCG Greater China, who added he was not surprised by the growing frugality of consumers in bigger cities.