China to issue local toll road bonds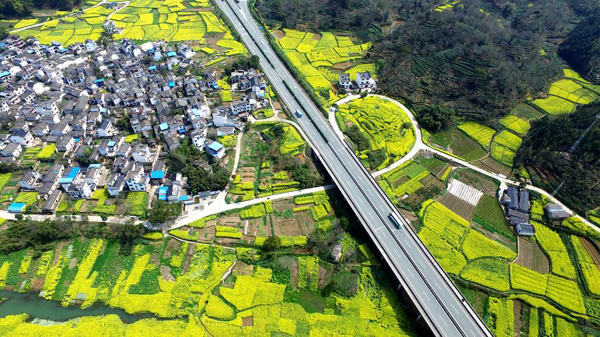 Aerial photo of the Anhui segment of Huizhou-Hangzhou Highway in East China.[Photo/Xinhua]
China will issue local toll road bonds this year to standardize local government's financing for toll roads, according to an official statement released on Wednesday.
This is the latest move to regulate local government's financing behaviors following the rollout of local land reserve bonds.
Local governments will be allowed to issue local toll road bonds to meet their financing needs, according to the statement jointly released by the Ministry of Finance and the Ministry of Transport.
Local toll road bonds is a type of special-purpose bond issued by local governments to finance the construction of toll roads.
The fund raised should be used specifically for toll road construction, the statement said.
Priority will be given to national highway projects and government toll way projects supporting the Belt and Road Initiative, the integrated development of Beijing, Tianjin and Hebei region and the Yangtze River Economic Zone.
Government toll roads mainly include national highways, local highways and arterial toll roads, according to the statement.
"The fund should not be misappropriated for projects other than toll road construction, current expenditures or road maintenance expenditures," the statement stressed.
As of the end of last year, China had 171,100 kilometers of toll roads, accounting for 3.6 percent of all roads. The aggregate investment in toll road construction came to 7.59 trillion yuan ($1.12 trillion) and the outstanding debts stood at 4.86 billion yuan, according to a communiqué on toll roads released by the Ministry of Transportation.
In the past, local governments either invited private capital to participate in road construction on the build-operate-transfer model, or borrowed loans from banks for road construction and paid back the loans with toll collections, an official said.
As China called off the financing function of various local transport financing vehicles in 2014, local government bonds have become the only bond-financing channel for new road construction, he said.
The issuance of the special-purpose local toll road bonds will expand the financing channels for road construction and standardize the financing behaviors of local governments, the official said.
According to a report by 21st Century Business Herald, the longest duration of local toll road bonds can be 15 years, while five years in principle is standard for local land reserve bonds. The newspaper also reported an unnamed source saying this year's total quota for local toll road bonds will be 73 billion yuan.