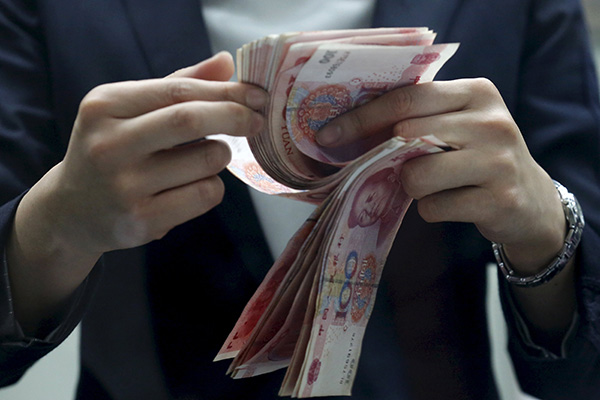 A clerk counts Chinese 100 yuan banknotes at a branch of a foreign bank in Beijing Jan 4, 2016. [Photo/Agencies]
China plans to raise the ceiling for special local government bonds issuance to 400 billion yuan ($61.5 billion) this year, up from 100 billion yuan in 2015.
The figure was revealed in this year's Government Work Report, released on Saturday, although the quota for new general bonds was not specified. Last year, China allowed regional and local governments to issue 100 billion yuan of special bonds and 500 billion yuan of general bonds.
Premier Li Keqiang said local governments will continue to issue new bonds to swap high-cost debt stock and alleviate repayment pressures, without specifying a quota. Last year local governments were allowed to swap 3.2 trillion yuan of debt.
In the government work report he delivered to the National People's Congress, the country's top legislature, Li also vowed to step up fiscal and tax reform.
"We will work toward ensuring that central and local governments receive an appropriate share of value-added tax. Tax suitable as sources of local government revenue will be handed over to local governments along with the corresponding administrative powers," Li said.
Local governments have long complained that they receive too small a share of tax revenue, while shouldering a disproportionately large amount of spending responsibility.
Li also said those local governments with strong financial fundamentals will be allowed to "modestly raise" their debt ceilings.