More focus on prosecuting cybercrimes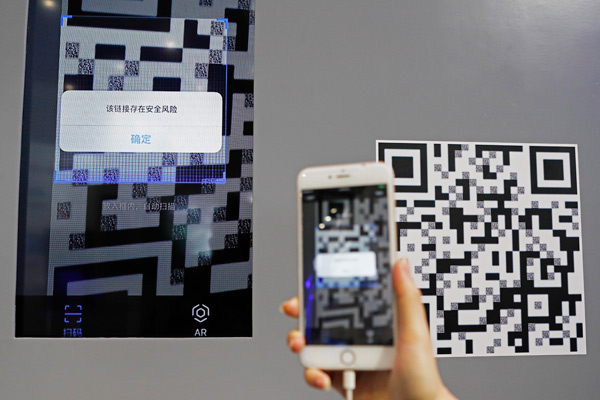 An expo is held in Shanghai recently to help the public better understand cybersecurity. [Photo by Yin Liqin/For China Daily]
Prosecuting departments are expected to attach greater importance to combating cybercrimes, a serious threat to national information security, according to the Supreme People's Procuratorate.
Figures released by the procuratorate show, between January and September, a total of 710 people were charged with cybercrimes, a year-on-year increase of 80.7 percent. The procuratorate also indicted 334 cases in the same period, up 82.5 percent.
Due to loopholes in the supervision system, such crimes, including cyberattacks, cyber fraud, cyber pornography and cyber gambling are on the rise, said Wang Songmiao, the procuratorate's spokesman.
Meanwhile, crimes involving infringement of personal information, such as online rumor-spreading, cyber blackmail, cyber terrorism and selling drugs online are also rising, he said.
"Cybercrimes tend to be complex and hidden, and the suspects collude with each other and form organizations to operate the criminal ring, especially in cyber gambling or fraud," Wang said.
Moreover, many of the suspects are young people, who have higher education and use their professional computer knowledge to carry out crimes, and then avoid legal punishment.
In November 2015, Li Binglong, a man from Shandong province, was convicted of destroying a computer information system and sentenced to five years in prison by the Xuhui District People's Court in Shanghai.
The court said, Li modified the domain name of a large website in Shanghai on purpose, and hijacked the website to visit a gambling website overseas.
He was found guilty of using the website to spread the advertisements of the foreign gambling website. In early 2015, he was arrested and charged with destroying a computer information system.
Zhang Xiangjun, the deputy director at the SPP's prosecuting department, said prosecutors face practical difficulties in dealing with such cases.
"Lot of the evidence involving such crimes is electronic, which is easy for the suspects to destroy, so it's difficult to collect solid proof," Zhang said.
Wang said, the number of cybercrimes, especially cross-border cybercrimes, is expected to rise in the near future.
For instance, some economic crimes on the internet, such as infringement of privacy or information are likely to increase.
The prosecuting authorities will need to adopt new measures to tackle this, according to the procuratorate.
Wang said the procuratorate will conduct more research on cybercrimes, including the definitions, conviction standards and the verification of digital evidence.
"We will cooperate with other judicial departments to issue legal statements or guidelines. Relevant training will be strengthened to train professionals to handle cybercrimes," he said.
The prosecuting departments will also work closely with financial and telecommunications enterprises to fight online crimes, Wang said.
Moreover, the prosecuting departments will beef up law enforcement cooperation with their counterparts in other countries, including information sharing, conducting joint investigations, transferring evidence and arresting or extraditing suspects, he said.