Icy province filled with hot ideas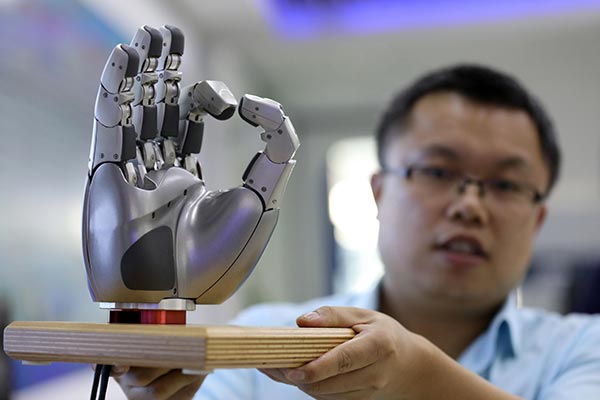 A researcher displays a flexible robot hand invented by a team from the Harbin Institute of Technology's innovation building in early September. [Photo/China Daily by Zhu Xingxin]
Many people may not know that Heilongjiang province is not only famous for its ice and snow culture, but also for its high-tech research and technological entrepreneurship.
From the start of 2015 through this July, 7,758 technological companies were registered in Heilongjiang and many have received investments from home and abroad.
In May 2016, President Xi Jinping visited a number of companies in Harbin, Heilongjiang, including Antiy Labs, a leading Chinese company that specializes in antivirus engines. He said Heilongjiang has a great potential in developing high-tech industries and emerging strategic industries.
Xi carefully read the analysis reports of Antiy, about how the company intercepted network attacks, and pointed out that internet security will support the country's safety.
Founded in 2000, Antiy Labs has provided safeguards for the Chang'e lunar probe and manned space flights. The company also guaranteed internet security for the debut flight of the domestic passenger jet C919 in May, as it has scanned nearly 100 important information systems and key websites used for the aircraft.
In addition, it provided internet security services for the G20 Summit in Hangzhou last year, the APEC Summit in Beijing in 2014 and the Beijing Olympic Games in 2008.
Among the top 10 domestic smartphone makers, eight cooperate with Antiy Labs, installing the company's system inside the cellphones to strengthen their anti-virus protection. Chinese mobile phone maker Xiaomi Corp was the first to collaborate with Antiy.
Xiao Xinguang, founder and chief technology officer of Antiy Labs, said Xi has been very sharp in paying attention to the internet security sector.
"The government has been supporting the development of the internet security sector, and internet safety will also safeguard business growth involved in the Belt and Road Initiative," he said.
"I feel really excited and proud when I reported the work to President Xi. ... His visit gave us a stronger incentive to advance forward."
Currently, the size of the anti-virus engine business in China is small, with a market of about 30 billion yuan ($4.52 billion). This is less than 10 percent of the market in the United States even though need for information security is about the same in both China and the US.
"In the past, we have been an organization that is more like a lab. We need to carry out our technologies, products and services to the related sectors and areas in a faster speed and solve more real problems," Xiao said.
"Besides, we are also expanding our footprints abroad, such as to help Africa to provide internet security services. Last year, we also launched our office in Silicon Valley."
Meanwhile, Xi also visited the innovation building in Harbin. With the support of the research and development strength of Harbin Institute of Technology, the building provides incubators for small and medium-size enterprises, and it shows the innovative achievements of the city.
"Harbin Institute of Technology was the first university in China to establish a major in composite materials. The first composite material factory in China was also built in Harbin," said Wang Rongguo, a professor at the School of Materials Science and Engineering at the university.
"We also made the first propeller that is made of composite materials in China. We should speed up the industrial transformation of our research achievements and apply them to more sectors," he said.