Taiwan resident makes custom heels for cozy beauty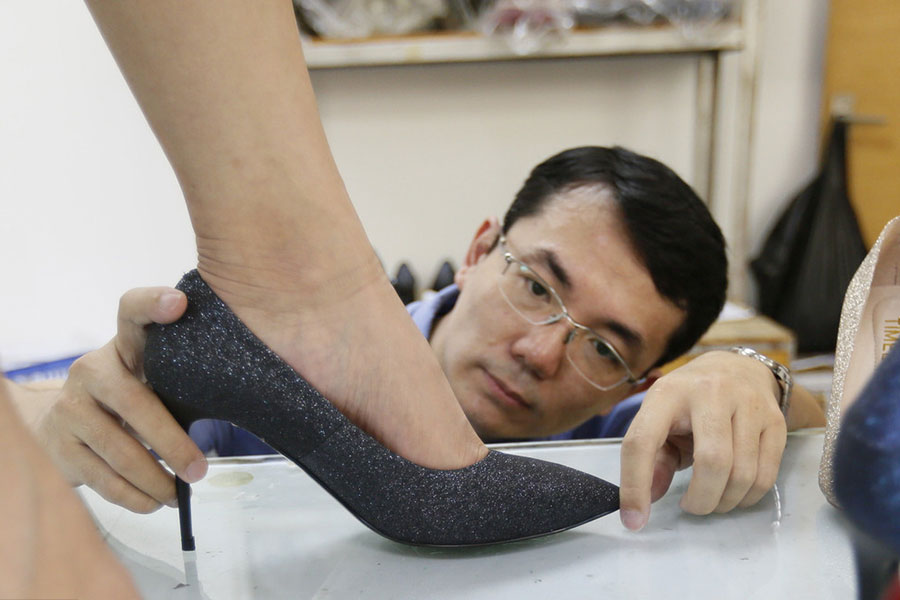 Cai Yufeng checks whether a shoe fits a woman's foot in Dongguan, South China's Guangdong province, on Sept 11, 2017. [Photo/IC]
"Every woman deserves a great pair of shoes that takes them wherever they want to go."
These are the words of Cai Yufeng, a Taiwan resident who has been making comfortable high heels for women for the past 20 years.
Cai majored in shoe design at National United University in Taiwan. In 1995, he came to Dongguan in South China's Guangdong province, and established a company specializing in customized high heels.
As a chief technology officer of the company, his company recorded data on thousands of customers' feet, including length, width, foot circumference and height requirement for shoes. And in accordance with the data, the company makes shoe lasts for each particular customer.
"It is common that a person's two feet differ in length and width, so the more accurate the data, the better fit for one's feet," Cai said. In designing the shoes, he wants to ensure the shoes do not rub people's feet or cut people's heels.
In order to let people wear more comfortable shoes, he also designed an air cushion insert in line with principles of human engineering. In regard to the heavier weight load borne by the front part of the foot, his pad has been made in a honeycomb type to relieve fatigue.
According to Cai, a shoemaker in his company can complete a maximum of 10 shoes a day, while one of regular customers has bought 16 pairs of tailor-made shoes in the past four years.