AIIB receives highest credit rating from Fitch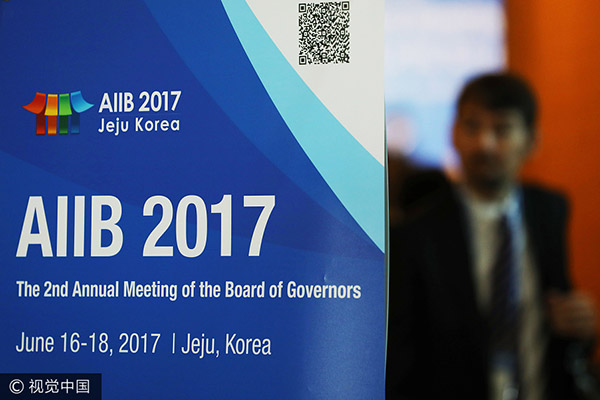 Signage for the Asian Infrastructure Investment Bank (AIIB) annual meeting is displayed in Jeju, South Korea, June 16, 2017. [Photo/VCG]
Global credit rating agency Fitch Ratings announced last Thursday it has assigned the Asian Infrastructure Investment Bank its highest possible rating - AAA with a stable outlook.
This marks another top-notch rating for AIIB over the past two weeks. On June 29, it received a long-term foreign currency issuer rating of AAA from Moody's Investors Service.
Fitch said in a statement the rating is based on AIIB's "existing and expected intrinsic strengths", adding that "AIIB has been endowed with a substantial capital base which, in Fitch's view, will support the projected rapid expansion in lending; exposure to risk will be mitigated by a comprehensive set of policies and by high quality governance".
"The rating is very critical for our positioning in the international capital markets. It puts us at the very level of the World Bank and the IMF," Soren Elbech, treasurer of the AIIB, said in an interview with the Wall Street Journal.
Beijing-based AIIB was officially established in December 2015 and opened its doors for business in January 2016. It is a multilateral development bank initiated by China and supported by 80 member countries and regions to finance infrastructure improvement in Asia and serves as a key financing mechanism for the China-proposed Belt and Road Initiative.
To date, the bank has approved $2.49 billion in financing for 16 infrastructure projects in nine countries. Twelve of the projects were co-financed, while four were standalone projects prepared by AIIB staff.