Come fly with me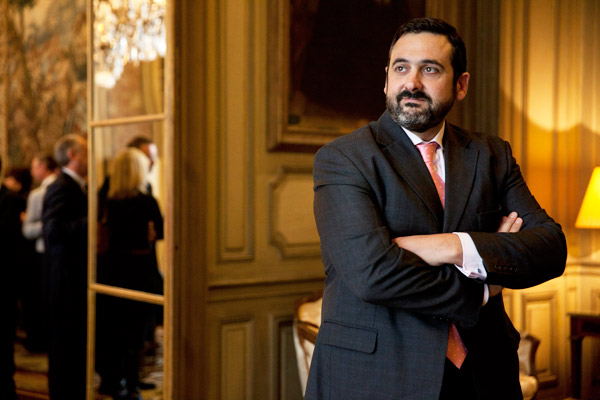 Alex Cruz, chairman and chief executive officer at British Airways. [Photo/Agencies]
Alex Cruz has a passion for aviation that borders on obsession.
When asked if there was a place in China that particularly impressed him, the 51-year-old chief executive officer of British Airways replied: "Beijing Airport."
It was not a flippant remark.
"Beijing Airport is unbelievable," he went on. "The size of it, the way that it works and the way it is organized. It's very busy, but it works really well."
Cruz's love affair with aviation goes back a long way.
After graduating from the Cox School of Business in Dallas, he worked for various airlines before he founded low-cost Spanish carrier Clickair in 2006. Three years later, it merged with Vueling and Cruz became CEO.
Then in 2016, he took over at Britain's flag carrier and pledged to make it an even better airline.
"The opportunity of coming to British Airways was the perfect evolution," he said.
BA merged with the Spanish carrier Iberia in 2011, creating the International Airlines Group. IAG is now the third-largest airline company in Europe and the sixth largest in the world, based on revenue.
With a fleet of more than 270 aircraft, BA deals with about 37 million passengers a year and employs 40,000 staff, according to the company's website. Smart technology is at the heart of the business and it will help the carrier become more agile.
"Technology is an absolute commitment of British Airways to improve the passengers' experience directly, and we are constantly evaluating new technologies," Cruz said.
In a far-reaching interview, he talks about BA's strategy in China, modernizing the airline's fleet and his love of gadgets.
Why did BA launch a code-sharing program with China Eastern?
What we value the most is the information that we can share about each other's market. We can tell them about the evolution of the sector in the United Kingdom and how we see political events shaping up during the coming months and years ahead.
China Eastern can share their views on the Chinese market, not just about Beijing or Shanghai, but beyond those regions. That information is very useful.
What are the airline's plans for routes in China?
We find ourselves with a very stable Beijing operation, a growing Shanghai business with 10 flights per week, and two flights a day in Hong Kong.
Our commitment to China continues. The Chinese team at British Airways is the biggest one for a single market outside the UK. We are going to look for opportunities, and we will hold discussions with airports and cities across China. I hope this will translate into new routes.
Why should Chinese customers choose BA instead of other airlines when flying to Europe?
Last year, we made a commitment to invest $500 million in our products. The new catering, soft furnishings in the cabin and new business class seats will make us the leading airline between Europe and China.
The biggest feature we have invested in is super-fast Wi-Fi. British Airways will be the first airline to have this when it's installed by 2019. You will be able to sit in your seat and continue your WeChat conversations . . . continue shopping . . . continue everything.
What are your plans for BA?
A lot of people ask if I'm going to turn British Airways into a low-cost carrier. My reply is always the same: "Absolutely not." What I am trying to do is to bring my experience of smaller operations into play. A low-cost carrier has to survive a very competitive environment, just like British Airways. In the end, we will need to be much more agile.
What has been BA's market performance in China compared to the rest of the world?
We are satisfied with our routes in China and we will continue to look for growth. We have had more discussions with the government about improving our slot times. Also, in Shanghai we have gone from seven flights to 10 flights a week. Overall, our presence in Asia is not huge.
Are you satisfied with the bookings for first class and business class on your routes in China?
We have seen during the past two or three years a small decline in passengers from the financial services sector in premium travel. But it has been compensated by an increase in premium leisure travelers.
This would be non-business travelers, who want to have a premium experience and will pay for it by buying business class tickets. This is quite an interesting market for us in China.
What business opportunities do you think will be thrown up by the Belt and Road Initiative?
Every meeting that we have here with businesses, administrators, regulators and politicians center around tremendous opportunities. It is all about growth in the economy, as well as investment. So, we are reassured that the initiative is helping to support and promote aviation. This is an initiative that will help open borders and benefit people.
What is the future for British Airways in the next five to 10 years?
I believe there are great opportunities out there for British Airways in the next five to 10 years. We will have new aircraft and we will continue to develop in China. I believe it will be a great period for the airline . . . really amazing.
How has globalization benefited your business?
We have managed the threat and taken advantage of the opportunities. We had to make the unfortunate, but necessary, decision to pull out of Chengdu (in Sichuan province). Because of our global reach, we have been able to deploy those four flights a week to another destination.
Since we live in a globalized world, some regions and countries will do better than others. We have to work around this, and use London as the center to redeploy assets and adjust to the different situations.
Is there a particular place in China that has impressed you?
I really liked Tian'anmen Square. I had the opportunity to go into the main building (The Great Hall of the People). It was fantastic. It was very impressive. Also, Beijing Airport is unbelievable. Incredibly impressive.
What are your hobbies?
My number one "hobby" is my family. I am married and I have four children. For 10 years, I was commuting, so I didn't see them very much. For the last year, we have all been living in the same city. That is why it's my huge "hobby."
I also love technology and play with gadgets. I want to understand what technology is doing to our lives. I tend to adopt technologies that will affect the world we live in for years to come.