Weakened sterling sparks Chinese investors' appetite for London real estate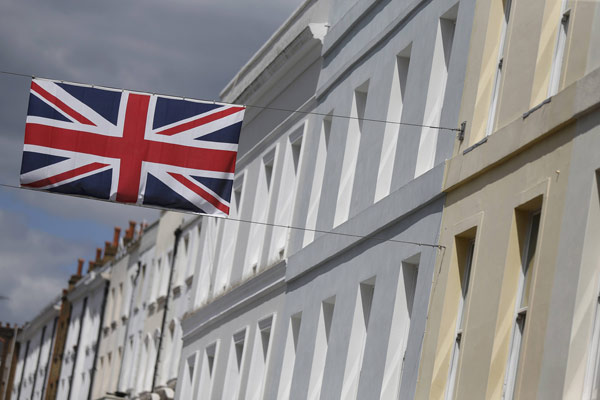 A flag hangs across a street of houses in London on June 3, 2015. [Photo/VCG]
London's commercial real estate market has more or less lost its glamour with deals declining since Brexit, but the market can take some comfort in the fact that Chinese investors still find it attractive, the Wall Street Journal reported.
Chinese buyers spent more than three billion pounds ($3.75 billion) on real estate in central London last year, more modest than UK investors but more generous than those from the US or Europe, real estate consultancy firm Jones Lang LaSalle (JLL) said.
The value of sterling has fallen about 12 percent against the Chinese currency renminbi, or the yuan, since Britain voted to leave the European Union last June, which, for Chinese buyers, means real estate is basically on sale, analysts said.
An office building located in Paddington, London, was sold to CC Land Holdings Ltd, backed by Hong Kong property tycoon Cheung Chung Kiu, for 292 million pounds this year. And in January, a subsidiary of Hong Kong conglomerate Emperor Group bought a building with offices and shops in London's Soho for 260 million pounds.
New York-based real estate market research firm Real Capital Analytics said London's commercial real estate transaction volume dropped by 45 percent to 21.5 billion pounds from 2015 last year. Other foreign investors' withdrawal is making Chinese buyers' influx stand out.
As many investors balk because of the uncertainty over the impact of Brexit, high prices after a multi-year property boom and the returns on London property that have reached near record lows, Chinese buyers see earnings optimism.
Real Capital data showed while the average capitalization rate—a measure of yield—on offices in Hong Kong was 2.6 percent at the end of last year, it was 4.2 percent on offices in London's West End.
"It's clear that returns in London are significantly higher," said Eric Pang, head of the China desk in London at JLL, the Wall Street Journal reported.