China's foreign reserves fall below $3 trillion mark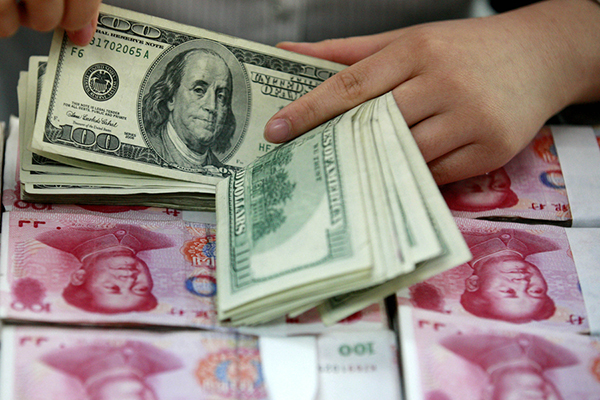 A Chinese clerk counts US dollar banknotes at a bank in Huaibei city, East China's Anhui province. [Photo/VCG]
China's forex reserves dropped to $2.9982 trillion in January, lower than market expectations of $3.0035 trillion, the lowest level since February 2011.
The forex level dropped below the $3 trillion-level that has been regarded as a physical line that the central bank is willing to tolerate.
The central parity rate of the yuan set by the central bank strengthened to 6.8604 against the dollar Tuesday.
The offshore yuan soon retreated in the afternoon soon after the data released, trading at 6.8296 against the dollar as of 4:20 p.m..
The central bank raised the average rate of the benchmark repo in the open market, which reflects market liquidity, by 10 basis points starting Friday.
The move has been seen as a prelude of a near-term future interest rate rise, according to some analysts, because the move reflects the tightening up trend of monetary policy.
Xu Zhong, director of the research bureau under the People's Bank of China, said the move cannot be mixed up with raising the bench mark interest rate.
Xu said the rise of repos only reflects the upward trend in the open market since last September, but it cannot be equalized with an interest rate rise that largely reflects the central bank's strong motive to intervene.
The lending rate was cut in October in 2015 to 4.35 percent.
Ming Ming, an economist with CITIC Securities Co said the central bank has sent signals for interest rate hikes, but is not likely to do so in the short-run.
"The bank has no intention to quicken the pace of the deleveraging process, but would rather leave room for mild deleveraging," he said in a note.
The central bank would raise the interest rate to support the yuan if depreciation pressure continues or forex reserves plunge quickly in the medium to long run, according to Ming.
The central bank stopped open market operations on Tuesday for three straight trading days, saying that the liquidity level remains adequate.