Shanghai Disney expands talent pool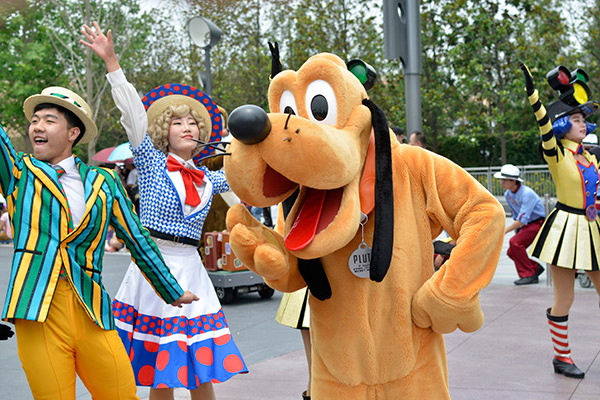 Performers at the parade of floats at the Shanghai Disney Resort hail visitors. [Photo provided to China Daily]
The Shanghai Disney Resort, which runs Walt Disney Co's latest theme park, is expanding its talent pool by partnering with local educational institutions.
The House of the Mouse will enter into agreements with 10 universities, colleges and vocational schools in 2017 by launching the "Shanghai Disney Resort Talent Class", the company said on Friday.
The move reflects Disney's larger goal of hiring over 98 percent of its staff locally, according to Philippe Gas, general manager of Shanghai Disney Resort.
"The essential element in guest satisfaction is the interaction that our 10,000 staff members have with visitors," Gas said in a news conference in Shanghai.
The theme park will set up joint classes with partner schools by teaching Disney's best practices in service excellence.
Internship opportunities are up for grabs, where students take on different roles including animation designers, makeup artists, accountants and mechanical technicians.
A typical class will host 30 to 50 people. Outstanding participants can apply to intern at the Walt Disney World Resort in Florida in the United States, training alongside American peers.
Shanghai Polytechnic University, Shanghai Sanda University, and the Tourism College of Zhejiang are among the first batch of schools to ink the deal.
This year the Shanghai resort plans to recruit 2,000 full-time and part-time employees, with vacancies tailored to the disabled population, said Lara Tiam, vice-president of human resources at the resort.
Long before its grand opening in June 2016, Disney devoted every effort to attract and retain skilled people in China, from job fairs and campus roadshows. Overseas internship opportunities have been offered to 1,200 Chinese students since 2014.
It also targets young Chinese studying in the US in the talent pipeline, training them overseas and bringing them back to a Disneyland closer to home.
But, Disney should be prepared for a high turnover rate, especially in the service and hospitality sector in China. According to the country's major recruiting website 51job.com, average turnover in that sector stood at around 20 percent in 2015.