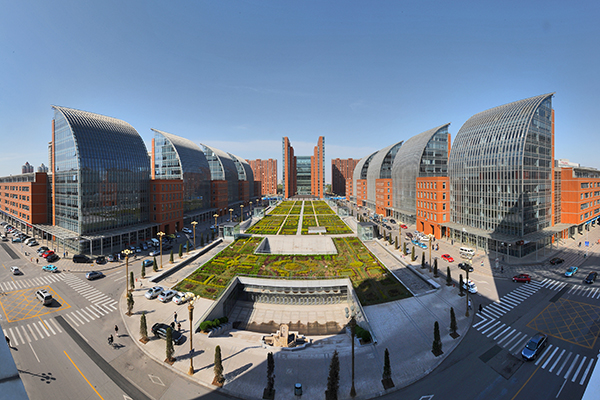 The financial street of Tianjin Economic-Technological Development Area. [Photo provided to China Daily]
The Tianjin Economic-Technological Development Area is working on a new industrial zoning plan as part of its efforts to welcome a new round of international industrial investments.
According to the plan, the development zone, also known as TEDA, is encouraging manufacturers to move to the zone's central and western parts, leaving the eastern part for modern service industries.
Xu Hongxing, Party chief of TEDA, said setting aside a base for the modern service industry is aimed at meeting the demands of new international investors for production-related services, including research and development, finance, leasing and logistics.
He said TEDA will continue to consolidate its strength in advanced manufacturing, enhance the modern service sector and boost the development of emerging industries.
TEDA has shown a great deal of progress in electronics, automobile, petrochemicals, industrial equipment manufacturing and healthcare equipment manufacturing, Xu said, adding that the industries should use foreign investment and technologies to expand value chains.
Xu said TEDA will also focus on emerging industries like new energy, advanced materials, energy conservation, environmental protection and marine industry in the near future.
Wang Sheng, chief of the TEDA's administrative committee, said building more R&D facilities to serve domestic enterprises will be a priority for the zone's service industry.
"By 2020, there will be 200 R&D institutions in the area, including 70 funded by multinational companies," Wang said.
Zuo Chuanchang, director of the Academy of Macroeconomic Research of the National Development and Reform Commission, said the soft investment environment is a major factor for attracting international capital.
"The attractiveness of a place lies in the professional talent, the atmosphere of scientific innovation, laws and regulations in line with the international systems, intellectual property protection and enjoyable living environment," said Zuo.
"Over the past 30 years, TEDA has been among the best in China. In its next stage, China will promote its experiences in development zones to foreign countries and collaborate with local governments in transferring domestic capacity. TEDA's experiences will offer great examples of that."
TEDA is the operator of the China-Egypt Suez Economic and Trade Cooperation Zone, China's first overseas economic and trade cooperative zone .
Initiated in 2008, the Suez zone has thus far attracted 68 enterprises, creating over 2,000 jobs for local people. When completed, it is expected to accommodate 200 enterprises.