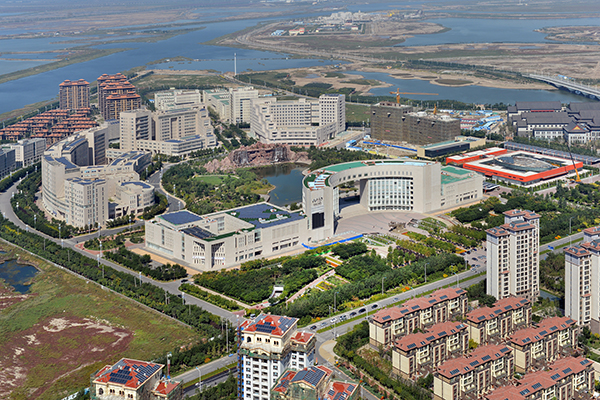 The National Animation Industry Park in Tianjin Eco-city. [Photo provided to China Daily]
Tianjin Eco-city, a joint development project between the Chinese and Singaporean governments, has become a major destination for the creative industries in Tianjin.
The creative industries, which include movie production, advertising, internet, and publishing, generated 1.25 billion yuan ($190 million) worth of tax in 2015, accounting for 56 percent of the eco-city's total tax revenues, according to the administrative committee of Tianjin Eco-City.
By the end of 2015, there were 1,002 creative enterprises registered in the eco-city.
The National Animation Industry Park in Tianjin Eco-city is the main destination for creative companies from Beijing and Hebei province, the administrative committee of the park said.
It added that the animation park also provides an environment in which small and micro private businesses can develop.
Nice Boat Animation, for instance, was started by three Chinese graduates who studied at overseas universities. It has grown into a profitable company that now has 40 team members.
Zhang Yuxiu, 32, is the founder of A4 Comics Industry. He and his team moved from Beijing to the park in April, 2013.
In three years, the company's scale developed from six employees to more than 60 staff members, including painters and technology developers. It has created more than 30 works.
"The animation park is a community that offers a creative and cultural environment, excellent services and opportunities to work with people from across the entire industry," said Zhang.
According to the park's authorities, six out of the 10 best-selling movies on the Chinese mainland last year were invested or produced by the companies in either the park or Tianjin Eco-city.
By the end of 2015, 231 companies were engaged in the production of movies, TV programs and animations, and in related investment, production and publishing activities. And 74 such companies were newly registered in 2015.
So far, seven out of China's top 10 film companies have operations in the ec-ocity, including Huayi Brothers, Enlight Media and Bona Film Group.