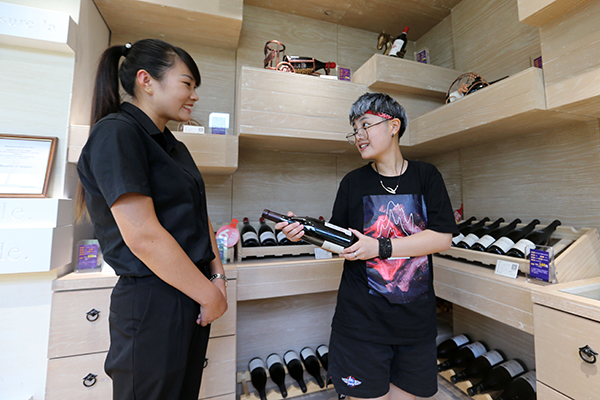 A customer asks about a bottle of wine on sale at the trading town, a 2.9-sq-km cluster in downtown Hangzhou designed to boost the emerging cross-border e-commerce industry. [Photo/China Daily]
Be it cosmetic products from South Korea or wine from Italy, residents in Hangzhou city, East China's Zhejiang province, can get their hands on a wide range of imported products via a few clicks online.
But rather than making cross-border orders and praying that the deliveries will look exactly like what is shown on e-commerce sites, those who live in Hangzhou are lucky enough to be able to check out products in brick-and-mortar stores first, thanks to an innovative cross-border shopping area in the city.
In the newly opened cross-border trading town, a 2.9 square kilometer cluster for the emerging cross-border e-commerce industry in downtown Hangzhou, more than 20 country pavilions, including Spain and Canada, offer shoppers thousands of imported products to choose from.
"Customers can check out and test whatever products they like and then decide which ones they want to buy," said Huang Jianya, head of the Bulgaria pavilion. In Huang's pavilion, there are many samples of the popular Bulgarian rose oil, which can be tested by shoppers.
Having made their decisions, customers can then place orders online and the goods, which are already in bonded warehouses in Hangzhou, will be delivered to their doorsteps within three days of clearing customs.
With Chinese consumers' taste becoming more sophisticated, a growing number of them want non-standardized and customized products from all corners of the world, said a man surnamed Zhuang, who is a co-founder of the France pavilion.
"Many of China's shoppers previously turned to over-seas shopping agents for help. But by using this bond-ed warehouse model, we can purchase a large volume of goods directly from overseas suppliers at a wholesale price," he said, adding that the innovative model can guarantee genuine products and faster delivery.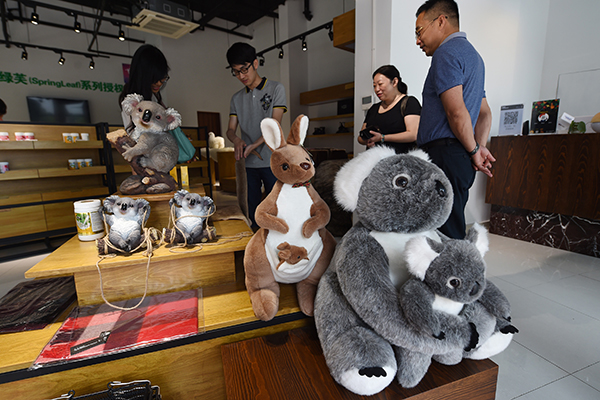 Customers look for merchandise at a store featuring Australian products at the cross-border trading town. [Photo/Xinhua]
According to a recent report on cross-border e-commerce by multinational consultancy Accenture, China is expected to become the world's biggest cross-border business-to-customer market by 2020.
The online-to-offline shop-ping pavilions, official operations of which began in June, are part of Hangzhou's effort to boost cross-border e-commerce.
The city, which is home to China's e-commerce giant Alibaba Group, was chosen last year by China's central government as the country's first comprehensive cross-border e-commerce pilot zone.
Zhang Ke, head of the Hangzhou cross-border trading town, said that the country pavilions represent more than just the buying and selling of global goods. "They are to promote the culture of living in a global village via cross-border e-commerce," he said.
"We want to build an entire industrial cluster based on cross-border e-commerce. It is hard to believe that a few years ago this place was full of factories," Zhang said.
New office buildings can now be seen where factories once stood and incubators have been set up to support the development of startups in a bid to attract cross-border companies to settle in the area.
Official statistics showed that cross-border e-commerce transactions in Hangzhou surged to $3.46 billion last year, the first year of its operation as a comprehensive pilot zone for cross-border e-commerce, from less than $20 million in 2014.