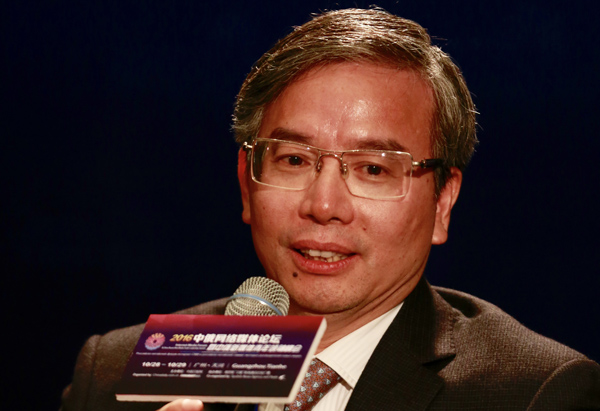 Lin Daoping, top official of Tianhe district, Guangzhou, capital of Guangdong province. [Photo/China Daily]
Tianhe district, the new city center of Guangzhou, capital of Guangdong province, will make good use of its higher education and scientific research resources to encourage mass entrepreneurship and innovation as the main fuel for economic growth, according to the district's top official.
As the host of the China-Russia Internet Media Forum, Tianhe wowed guests with its booming high-tech industry on Friday. During a trip to the district's high-tech companies, visitors watched a 9D movie using the latest virtual-reality devices, and were able to pay for their subway entry by swiping their mobile phones on a machine.
There were 530 high-tech companies in Tianhe at the end of last year, accounting for 27 percent of all enterprises. The number is expected to surge this year, with 1,189 companies having applied in the first 10 months to be accredited as high-tech firms. More than 800 of those are expected to be approved.
"Science and technology innovation in Tianhe has great growth momentum," said Lin Daoping, top official of the district.
"We will maintain the strategy of driving economic growth through innovation in the coming three to five years."
Boasting 30 universities and 53 scientific research institutes at city-level and above, Tianhe has a large talent pool to help achieve high-level mass entrepreneurship and innovation.
To better help startups to grow, Tianhe is building a science and technology zone covering an area of more than 1.1 million square meters.
It also plans to renovate about 4 million sq m of old factories and collective properties in downtown villages, turning them into maker spaces.
Such efforts show Tianhe is trying to address the weak links related to supporting mass entrepreneurship and innovation, Lin said.
"We have Class-A office buildings in Tianhe CBD. We also have low-priced offices in downtown villages. But we don't have many medium-priced offices with good services that young startups can move into to expand their businesses if they can't afford the rent for Class-A office buildings," he said.
"Young people are the major force in mass entrepreneurship and innovation. They have fervent enthusiasm but weak foundations for starting their own businesses, so we are providing them with affordable workplaces and financial support," Lin added.
The district government launched a policy in October last year enabling young people to register a company by renting a desk in one of the district's science and technology parks, incubators or maker spaces.
It also spent nearly 10 million yuan ($1.48 million) last year subsidizing office rent for startups, Lin said, adding that there is no upper limit for this year's budget.
Tianhe's GDP last year was 343.86 billion yuan, the fourth-highest among all city districts nationwide and a year-on-year increase of 8.8 percent.
As the core district of Guangzhou and an international business center, Tianhe will actively contribute to the country's Belt and Road Initiative, Lin said.
"Guangzhou is South China's economic hub and host of the Canton Fair (China Import and Export Fair). We will make good use of our geographical advantage and long history in foreign trade to enhance communication with Asian countries, especially Southeast Asian countries," he said.
"We will also encourage more information technology companies to venture out into overseas markets, at the same time developing a good business environment to attract foreign companies to set up China headquarters in Tianhe."