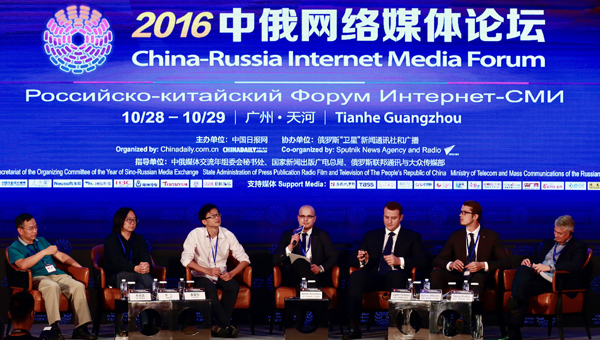 Representatives share their viewpoints at the China-Russia Internet Media Forum in Guangzhou, Guangdong province, on Oct 29, 2016. [Photo by Zhu Xingxin/China Daily]
Both China and Russia are paying more attention these days to media development and internet security, Alexey Volin, deputy minister of Telecom and Mass Communications of the Russian Federation, said on Saturday.
Volin spoke at the opening ceremony of the China-Russia Internet Media Forum and China-Russia New Media Youth Leadership Summit in Guangzhou's Tianhe district.
The forum, whose theme is "Development and cooperation between Chinese and Russian internet new media organizations", brought together more than 150 media representatives, entrepreneurs and researchers from China and Russia, to discuss development and cooperation, innovation and breakthrough opportunities, and challenges faced by online media companies in the two countries.
The forum aims to enhance people-to-people exchanges, create an information platform for countries along the Belt and Road Initiative, and enable enterprises to hold dialogues and further promote development in the cultural, creative and information industries.
"In online media, the two countries can cooperate on more projects, such as the choice of internet platform, technical support, internet information security control, media data storage and big data," Volin said.
"As new media develop rapidly, traditional media are facing new challenges, including how to apply internet technology and how to achieve better communication with audiences."
Kang Bing, deputy publisher of China Daily, said during the opening ceremony that exchanges between nations through new media have gone far beyond the traditional method of cross-cultural communication, entering into a broader space, a wider range of areas and a more profound level.
"The forum will create a harmonious and friendly atmosphere for promoting the Belt and Road Initiative and the Eurasian Economic Union," Kang said.
A series of panel discussions were held the same day, with media industry experts from both countries sharing opinions and reaching some agreement.
Andrey Kirillov, the Beijing bureau chief of Russian news agency ITAR-TASS, spoke of experiences during the cross-border, road rally-like group interview activities in cities on the China-Russia border. The interviews, which were jointly conducted by ITAR-TASS and People's Daily in 2014 and this year, helped to build media cooperation.
"We not only cover what we see during the trips, but also try our best to showcase local cultures and local lives to the two countries' audiences," Kirillov said.
Meng Lingjuan, deputy editor-in-chief of ce.cn, said collaboration between Russian and Chinese media outlets should be based on matrixed new-media products, such as audio content derived from video stories.
Also, the two countries' media need to improve think tank networks and technolgy cooperation, Meng said.