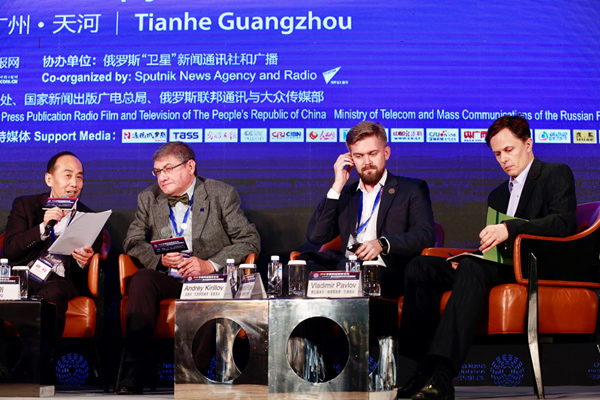 Chinese and Russian participants attend a session of the China-Russia Internet Media Forum & China-Russia New Media Youth Leadership Summit, in Guangzhou, Guangdong province, on Oct 29, 2016. [Photo by Zhu Xingxin/chinadaily.com.cn]
Traditional media organizations should adopt more internet-based technologies in a fast-changing and challenging environment by providing valuable content for readers, according to industry insiders.
Li Senhe, president of Zaker, maker of a Flipboard-style app for displaying multiple pages of customized content, said cooperation between traditional media groups and emerging mobile internet news platforms will help both achieve sustainable development, amid the technology-driven reform of media industries.
Zaker, founded in 2011 and based on big data technology, has worked with more than 4,000 traditional media organizations domestically in news content presentation, with 170 million online registered users, Li said.
"Given the vast number of stories, it is of great importance to provide readers with content that is tailor-made," Li said. "By analyzing users' reading habits and social media buzzwords, Zaker is able to predict which articles will become hot hits. We want to use data to change the source of content production."
For traditional media organizations, it is also important to introduce technologies from emerging internet media groups. "Traditional media organizations are strong at providing content, but usually lack internet-based technologies," Li said.
Li spoke at an industry forum alongside the China-Russia Internet Media Forum & China-Russian New Media Youth Leadership Summit, held on Friday and Saturday in Guangzhou, capital of Guangdong province.
According to Vadim Fedotov, counsel to the CEO of Russian company Gazprom-Media Holding, Russia has more than 85 million online users, only about 12 percent of China's total.
"We need to work closely with original media organizations both in China and Russia, while using our strength in technology to provide useful content for readers," Fedotov said.
Fedotov also expressed a desire to cooperate with Chinese internet media.
"Quality content is the lifeline of media," he said. "We are looking forward to working with Chinese internet media to explore products."
Traditional media organizations have been greatly challenged, following the rapid development of internet-based technologies in recent years, according to Ning Er, deputy editor-in-chief of Sohu, a comprehensive online platform in China.
"We should not be afraid of the challenge," Ning said. "In a fast-growing media industry, it is very important to use technologies to reform traditional media."
Ning said the quality of content produced by both traditional and new media should be prioritized.
"Coproducing high-quality content can be the starting point of Chinese and Russian media cooperation," Ning said.
Niu Heqing, CEO of Tianjin Hylanda Information Technology Co, said the company would be willing to provide more technologies for traditional media groups.
"Emerging technologies will be very helpful for traditional organizations in providing and distributing content," he said.