Synching S. America with world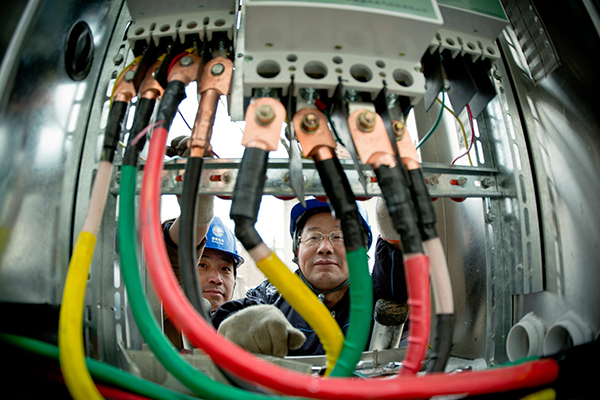 Technicians inspect a power line in a residential area of Huaibei, Anhui province. [Photo/China Daily]
State Grid Corp takes lead by building Brazil hydropower plants with UHV technology
State Grid Corp of China, which runs the majority of the nation's electricity distribution network, has big plans to play a key role in the clean energy industry in South America.
"The company's landing ultra high-voltage electricity transmission projects in Brazil marks a major breakthrough in China's 'going global' strategy in the field of UHV technology," said Li Lequan, deputy director of State Grid International Development Co Ltd, SGCC's subsidiary for global operations.
"The first phase of the Belo Monte UHV DC Transmission Project, which is expected to start commercial operations by February 2018, will create more than 36,000 local jobs. It'll also use Chinese electrical equipment worth 5 billion yuan ($720 million)."
UHV technology provides large-scale power delivery over long distances and can reduce energy loss during transmission.
According to Li, the project is the first overseas UHV direct current transmission project operated by a Chinese power enterprise. It is also the first UHV DC project in South America.
A group led by SGCC won the bid to construct the hydropower transmission lines for the Belo Monte project, a hydropower plant in the Amazon region, in February 2014.
So far, major equipment like converter stations has arrived on-site, and 40 percent of the construction of the substation, and 95 percent of land acquisition, have been completed, he said.
In July 2015, the company won the bid for Phase 2 Belo Monte UHV Transmission Project independently and received the concession for 30 years.
The project, which will integrate investment, construction and operation of UHV transmission projects, includes an 800KV UHV DC transmission line with converter stations at both ends.
The construction period will last for 50 months and is expected to start commercial operations by December 2019.
Analysts said China's UHV technology has become key to the company's presence and expansion in Brazil, where distances of thousands of kilometers separate hydroelectric dams and the communities they serve.
Han Xiaoping, an analyst at Beijing-based cnenergy.org, said the technology helps transmit large amount of power over long distances. That is what Brazil needs, given its vast and varied geography.
In hydropower potential, Brazil ranks third in the world after Russia and China. Eighty percent of the energy consumed in the country originates from hydroelectric plants, he said.
"The upcoming UHV line will signify Brazil's, even South America's, first 'electricity superhighway'. Besides, State Grid's UHV technology will gain lead in the global power plant and distribution grid construction market," Han said.
Insufficient power and its uneven distribution have put new pressures on economic development the world over. Statistics show the price of electricity for home use increased by 50 percent last year, according to Xinhua News Agency.
"China is a country with rich experience in building large-scale power transmission infrastructure, so it has become the first choice for other countries in need," Han said.
UHV is a world-class Chinese innovation with intellectual property rights. State Grid manages hybrid grids with the world's highest voltage level and on the largest scale, said Li.
"It owns advanced large grid operational control technology and system protection technology and is the world's sole grid type with no major outage."
SGCC, which was set up in 2010, has so far erected power lines stretching 6,748 kilometers in Brazil, with 6,054 kilometers more under construction.
SGCC's overseas arm also has a presence in the Philippines, Portugal, Australia and Italy. Its overseas investment has reached $9.8 billion; its overseas assets are worth $29.8 billion.
The parent company plans to use its domestic market experience to win more export orders for its technology and equipment.
Last year, it inked framework deals with Russia and Kazakhstan for cross-country electricity transmission lines.
The parent company has invested more than $10 billion overseas so far, with gross value of assets reaching $40 billion, all earning profits, said Lv Shirong, deputy director-general of the Department of International Cooperation, SGCC.
"The company has successfully invested in and operated key backbone energy networks in six countries and regions, including the Philippines, Brazil, Portugal, and Italy.
"Its overseas business has extended from developing countries to emerging economies and developed countries."
According to Lv, SGCC highly values the key role of standards in international competition, while enhancing China's voice and influence in the power sector worldwide.
"State Grid leads the world in a number of grid technologies. It's the first in the world to establish a complete UHV DC/AC power line and smart grid technology system. It also has a presence in new energy and large grid operation," he said.
"State Grid will work on its international business and major projects centered around the Belt and Road Initiative, and strongly promote China's 'going global' push in technology, equipment, management and power industry standards."