PPTV acquires rights for Premier League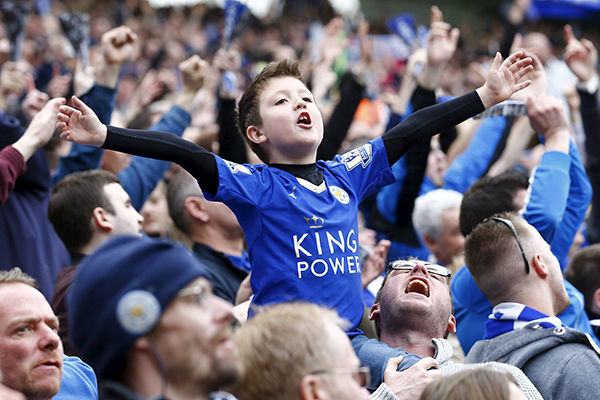 Leicester City fans celebrate at full time after their English Premier League soccer match against Southampton at the King Power Stadium in Leicester, Britain, April 3, 2016 [Photo/Agencies]
UK move follows purchases of European football teams by Chinese companies
Digital broadcaster PPTV, a unit of Chinese retail giant Suning Holdings Co, said it will further strengthen its leading position in sports events broadcasting, after it secured the copyright for live broadcasting the matches of the English Premier League.
Currently, PPTV is in the process of signing an exclusive three-year contract with the English Premier League to broadcast live its 2019 to 2022 season in the Chinese mainland and Macao.
The deal is worth a reported value of over $600 million.
The online broadcaster's bid was chosen over other Chinese competitors, including Tencent Sports, LeTV, and MP&Silva.
"We have won the exclusive bid to broadcast live the events, including other copyrights, like video-on-demand services. The agreement signals our further move to acquire match copyrights, after we secured the copyright to broadcast the matches of the Spanish Premier Division for five years," PPTV said in a statement.
In June, Suning bought a 70 percent of stake in Italian soccer team Inter Milan, with an investment of about 270 million euros ($286 million). Also, Chinese companies have acquired other premier football clubs, including West Bromwich Albion, Aston Villa, Wolverhampton Wanderers and Birmingham City.
Neil Wang, president of Greater China of market research agency Frost & Sullivan, said: "For domestic online broadcasters, it's a path to profitability by purchasing the copyrights of top sports matches and therefore drive the sales of downstream sports-related products such as theme parks, toys, cartoons, animations and outdoor equipment."
Wang said China has 174 million football fans of the English Premier League, and Chinese audiences are gradually forming the habit of watching online videos with payments, following the boom of online video dramas.
"PPTV hopes to gather more attention on certain intellectual properties, and it will be beneficial for its future investment in the capital market," Wang said.