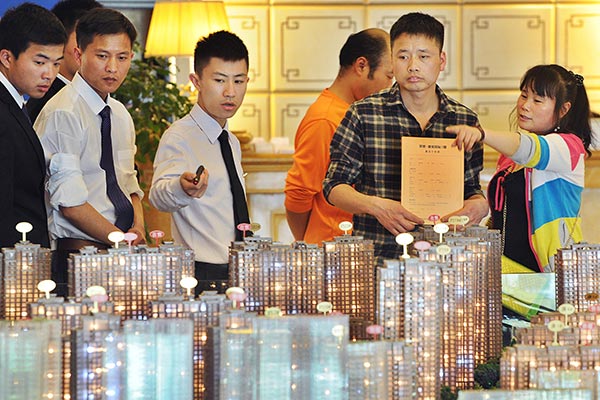 Residents in Hangzhou, capital of Zhejiang province, visit a model of a commercial property project. [Photo/China Daily]
BEIJING - China's property market has ended a general growth phase and entered one of regional differentiation, according to the National Bureau of Statistics (NBS) Friday.
The property market is generally stable while investment and sales growth differences in different regions are good for destocking and sustainable development, Sheng Laiyun, NBS spokesperson said in a press conference after a string of economic data was released.
Property investment and floor area sales rose 5.3 percent and 26.4 percent respectively in the first seven months of the year, slower than the growth in the first six months, official data showed.
Meanwhile, the floor area of unsold property nationwide fell for the fifth consecutive month, positive results for China's destocking efforts.
With a huge supply glut, the government has taken a raft of measures to support housing consumption and reduce inventory, such as lowering taxation and downpayment restrictions.
Sheng pointed out that housing price adjustment is a result of recent weaker demand and the tightening of policy in some regions.
The property sector is a key pillar supporting the Chinese economy and governments at all levels should take specific measures to deal with the continuing differentiated market conditions, Sheng added.