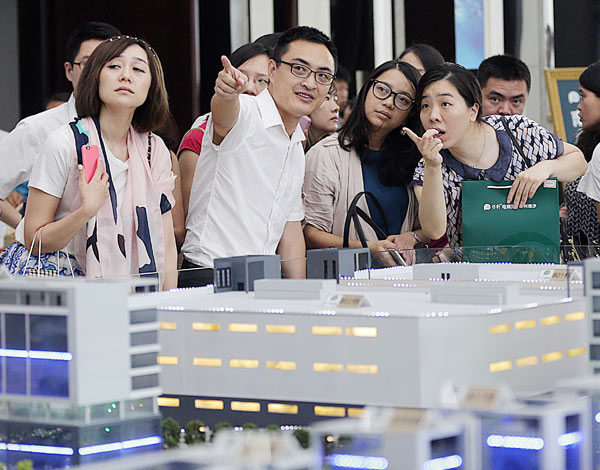 Prospective home-buyers appear keen at a housing project in Guangzhou. The shares of most of the listed real estate companies per-formed well in the first half of this year on the back of robust sales and growing home prices. CHINA DAILY
Farming, F&B and biopharma are among the most optimistic sectors this year WU YIYAO
Corporate financial results for the first half of this year are nigh, and more than 60 percent of some 1,800 A-share listed companies have said they expect positive growth.
Agriculture, biopharmaceutical, food and beverage are among the most optimistic sectors.
First-half profit forecasts of some companies have showed that consumption-driven sectors, particularly tourism, food and beverage, entertainment, agriculture and healthcare, have benefitted from deepening supply-side reforms.
In particular, farming, food and beverage have gained from a recovery in demand. This is being seen as a potential turning point in the cyclical periods as sales revenue continues to rise.
Zhengzhou-based Truin Agro-Pastoral Group, a firm engaged in meat processing, breeding and farming, said as demand for pork rose in the first half, boosting production and output, its profit may grow 8,660 percent year-on-year.
Alcohol and beverages, particularly high-end brands, are seeing rising demand and higher retail prices. Profit margins of producers and dealers of high-end alcohol, wine and beverages will likely expand, potentially giving investors more opportunities in the second half.
Kweichow Moutai Co Ltd, for example, saw sales volume rise 39 percent year-on-year in the first half, according to a research note from Xue Yuhu, an analyst with Founder Securities Co Ltd.
Makers of high-end and premium products, and those targeting the mass markets such as dairy goods, processed meat and food ingredients, particularly the big players in various sub-segments, may continue to see high growth in the second half, said Xue. Besides recovering consumption, non-organic growth such as mergers and acquisitions is the major reason behind solid performance growth of some companies.
For instance, Sino Great Wall International Co Ltd, a company dealing in infrastructure and interior decoration services, revised its first-half growth forecast and said it will now be more than 360 times that of the first half of last year, following the completion of its restructuring.
Shenzhen-listed Chongqing New Century Cruise Co forecast more than 300 times on-year growth in its first-half profit after it became a shell entity for Chinese online game developer Giant Interactive Group through backdoor listing.
Real estate developers also forecast positive results as many of them have recorded high sales revenue in first- and second-tier cities. This helped reduce inventories, particularly in key cities such as Beijing and Shanghai.
Countrywide infrastructure development related to urbanization will also likely help providers of construction services, particularly the big players in the sector, to show higher income in their first-half results.
This momentum will continue in the next few quarters, said a research note from Guotai Junan Securities Ltd.
Some companies, however, will see their profitability shrink due to weak demand and dented profit margins.
Sixty companies released warnings their first-half earnings may fall by more than 100 percent, potentially resulting in net losses.
Several of them are from resources, commodities, mining and steel. Commodity price fluctuations and shrinking demand are to blame, they said.
Providers of financial services may see more pressure in the rest of the year as their profit margins were dented by easing interest rates, which made competition fiercer. Brokerages are also less likely to post strong results as they did in the first half of 2015.
Analysts said investors may focus on fundamentals and look at opportunities in consumption-driven sectors.
Gao Ting, head of China strategy at UBS Securities, said the performance of A shares continues to be polarized as supply-side reform deepens: those that are swift enough to meet market demand are likely to rise.
He said infrastructure and healthcare are among the sectors recommended to investors.