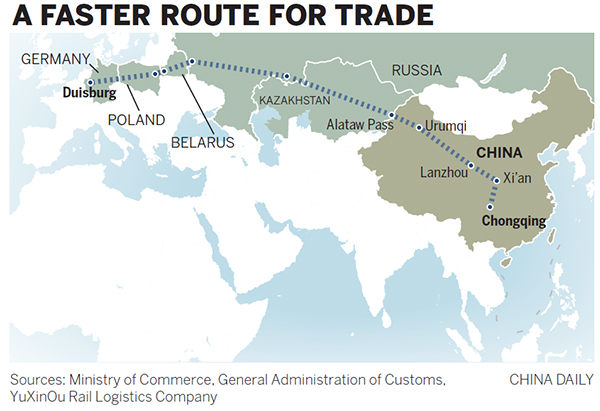 Chongqing, a municipality in southwestern China, might have seemed like an unlikely place for a coffee trade center before the city announced the establishment of the Chongqing Coffee Exchange in June.
But now it hopes to become the world's third-largest coffee futures market, after New York and London.
Its big ambitions ride on an intercontinental railway connecting Chongqing and Germany, the brainchild of local government that began operating in 2011.
Since last year, Yunnan-based coffee producer Hogood Coffee Co has used the 1 1,000-kilometer-long Chongqing-Xinjiang-Europe International Railway for exporting coffee products.
"It not only cuts costs, but also saves time," said Xiong Xiangren, founder of Hogood, which is China's largest instant-coffee producer.
Hogood accounts for about half of China's coffee exports, and its clients include such major brands as Nescafe, Maxwell and Kraft.
The bright prospects for coffee are just part of the picture, however, as Chongqing, a megacity of 30 million people and China's fourth municipality, is rapidly becoming a trading hub for goods bound for Europe. The transformation is in large part due to the China-Europe transcontinental trains.
Statistics from the General Administration of Customs of China show that as of mid-June, 45 percent of goods transported by the Sino-Europe railway began their journey in Chongqing.
In the Chongqing Liangjiang New Area, the rail link and two large Yangtze River ports are connected by highways and railroads, creating a vast logistics network.
The rapid growth of freight transportion on the railway connecting Chongqing and Duisburg, Germany, pushes the inland municipality to the front of China's Europe-bound international trade, according to businesspeople.
"Initially, it was mainly IT hardware in Chongqing shipped abroad through the railway," said Qi Dan, general manager of Yuxinou Rail Logistics Co. "By 2014, almost all major industries here and nearby provinces had direct or indirect access to the railway."
The rail line also is spurring the growth of new industries in Chongqing, Qi added.
Additionally, the city is seeing rapid development in cross-border e-commerce, automobile imports and international logistics. According to China Railway Corp, 16 Chinese cities had joined the Sino-European railway service as of June, with over 1,700 trains operating on a regular basis.