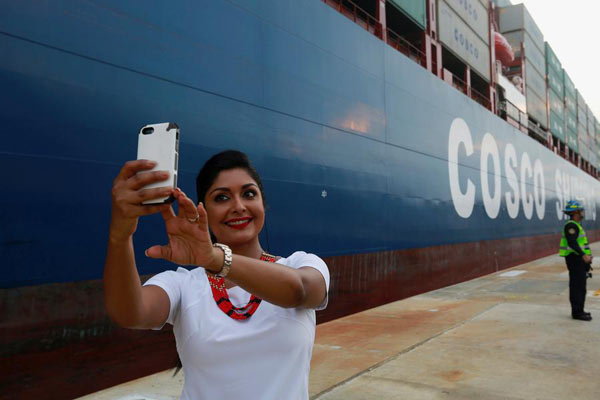 A woman takes a selfie as the Chinese COSCO container vessel is seen crossing the Cocoli locks after crossing the Panama Canal to the Pacific side, during its first ceremonial transit of the new Panama Canal expansion project in Cocoli on the outskirts of Panama City, Panama June 26, 2016. [Photo/Agencies]
The expansion of the Panama Canal embodies "efforts to follow the trend of megaships amongst the background of globalization," COSCO SHIPPING Chairman Xu Lirong said after one of his company's vessels became the first to pass through the new part of the canal on Sunday.
The COSCO SHIPPING Panama crossed the 50-mile canal around 8 am after setting sail from the Greek port of Piraeus two weeks prior. Once it reached Panama, it transited the Agua Clara Locks on the Atlantic Ocean side in the morning and the Cocoli Locks in the afternoon.
Panamanian authorities hope the nine-year, $5 billion expansion project will usher in a new era of global commerce at a time when the shipping industry is facing one of its worst slumps.
"The expansion of the Panama Canal, a critical shipping lane in the world that links the Pacific and Atlantic oceans, will have a major impact on various shipping markets, including those from the East Coast of America to the Far East, from Europe to the West Coast of America, and from the East to the West Coast of America," Xu said on Sunday.
More than 5,000 people attended the inauguration ceremony, which included the Panamanian president and government officials, the administrator of the Panama Canal Authority, a COSCO SHIPPING delegation led by Xu, as well as project workers and local residents.
Xu said that the expansion is not only a major development for the canal but a "milestone of the global shipping industry". The shipping company is the largest in the world in cargo capacity and one of the canal's main users, so being the first to transit the expanded canal is "not only an honor for the vessel and its crew" but for all of the company and its employees, he said.
Ilya Marotta, the executive vice-president of engineering for the Panama Canal, said that the new access will make the route between China and the US East Coast even more popular.
"Now they'll be able to have bigger vessels, which will give them a cheaper price per unit to be able to put their vessel through our canal," Marotta said.
"Our commitment to provide value to our customers remains paramount. In 2015, we broke our tonnage record with 340.8 million PC/UMS (Panama Canal Universal Measurement System) in the original canal," said Jorge Quijano, Panama Canal administrator and CEO.
"Today, we make history and improve global connectivity. We thank our customers for their support and appreciate the 170 reservations we have received thus far to transit the expanded canal," he said.