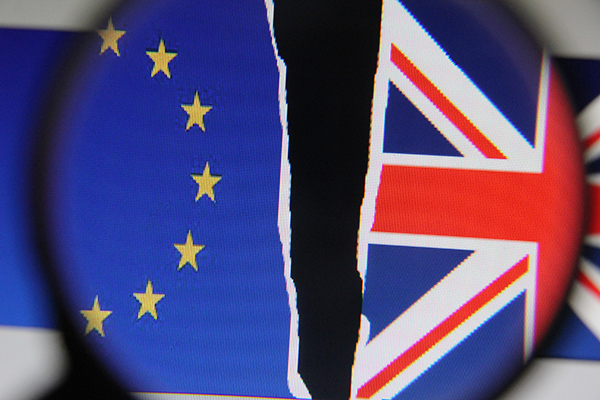 Chinese banks and companies that have a presence in the United Kingdom as a gateway to Europe will feel short-term pain following Friday's vote, but will likely take more time before finalizing their post-Brexit strategy. [Photo provided to China Daily]
Beijing has prepared contingency plans to mitigate the possible adverse impacts of Britain's withdrawal from the European Union, a senior Chinese official said on Sunday.
Xu Shaoshi, chairman of the National Development and Reform Commission, the country's top economic planner, said that the effects of the Brexit on China would be limited.
However, Xu said, the event could trigger capital outflows that could add downward pressure on asset value and on the renminbi. Plus, Chinese companies could see more volatility in currency exchange rates.
"It is undeniable that the Brexit will increase the uncertainty and volatility in the global economy. That has been reflected in the turbulent movement of global financial markets over the past few days," Xu said during a panel discussion at the World Economic Forum in Tianjin.
Britain's unexpected and historic vote to exit the EU on Thursday has prompted concerns for the British economy and the future of the EU, as well as global repercussions.
Xu said China will continue to push pragmatic cooperation with both Britain and the EU and would like to see a prosperous Europe as a whole.
Experts said Chinese companies with a significant presence in Britain and the EU will likely feel some immediate pain, as they could encounter fresh issues over taxation, employee mobility and legal matters as a result of the Brexit.
Li Daokui, an economics professor at Tsinghua University said the Brexit will put downward pressure on the renminbi in the short term, but it will dissipate as investors' anxiety eases gradually.
"The midterm risk will likely be that some Chinese companies will opt to scale back their investment in Britain," Li said.
The eventual Brexit, if carried out, will be a complicated process, so it's too early to draw many conclusions about the overall impact on China, he said.
The vote in the UK is nonbinding. Parliament must now act to complete the EU withdrawal.