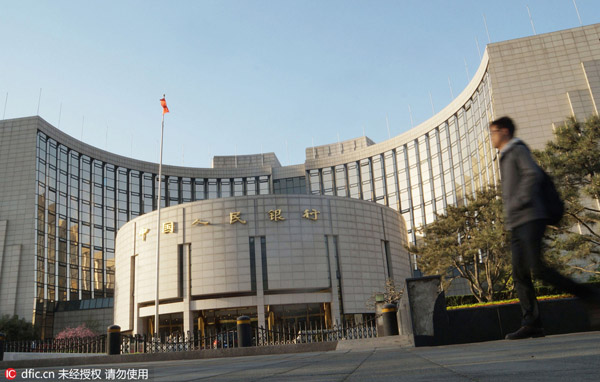 A pedestrian passes by the office building of the People's Bank of China in Beijing, April 4, 2014. [Photo/IC]
The People's Bank of China is considering allowing foreign companies to trade on domestic stock exchanges via depository receipts, China Business News reported on Wednesday citing the bank's annual report 2015.
Issuance of Chinese Depository Receipts (CDRs) - yuan-denominated certificates representing a specified number of shares in qualified foreign companies to trade like regular stocks in China - could be another step forward to orderly realize the yuan convertibility on capital account, said the bank.
It would be an easier and more cost-effective way for foreign firms to gain more exposure in the Chinese market and for Chinese investors to buy shares in highly valued foreign companies, analysts said.
Depository receipts are not stocks per se, but a derivative product in corporate financing, said the newspaper, citing Chen Ji, a senior research fellow with Bank of Communications.
Chen added that problems remain to be solved as to what kind of foreign companies are qualified for CDRs or how domestic buyers could get fully informed about underlying equities before investment, etc.
It's still hard to tell if it would evolve into a major tool for Chinese overseas investment, said Chen. "It largely depends on how much foreign companies are willing to issue CDRs in China."
The central bank said in its annual report that overseas confidence on the Chinese yuan and yuan-denominated assets will continue to swell, as the country beefs up efforts to open its financial market and boost the use of the Chinese currency in the world especially after yuan's inclusion in the Special Drawing Right basket last November.