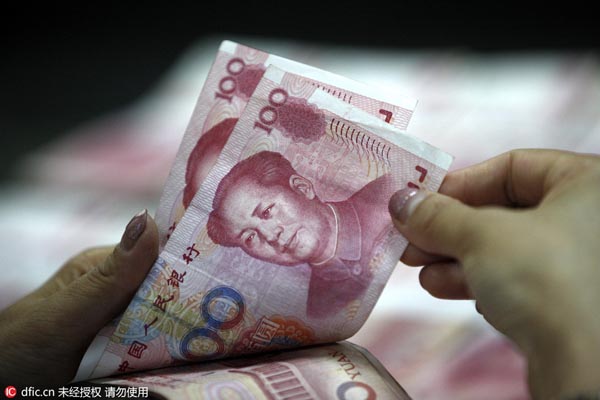 A Chinese clerk counts RMB (renminbi) yuan banknotes at a bank in Huaibei city, East China's Anhui province, Aug 11, 2015. [Photo/IC]
BEIJING - A further decline in Chinese banks' net foreign exchange sales points to reduced negative sentiment over further weakening of the yuan against the US dollar, according to a research report.
The market has gradually got used to two-way fluctuations of the yuan's exchange rate and is less motivated to buy foreign currency, according to the latest report released by the Bank of Communications (BOCOM).
Chinese banks saw $12.5 billion of net forex transactions in May, down 47 percent from April, official data showed on Monday.
The BOCOM report attributed the change of sentiment to China's new exchange rate mechanism and closer scrutiny over capital outflow.
China overhauled its exchange rate mechanism in August 2015, making it more market-based and setting the yuan's value with more reference to a basket of currencies instead of the dollar alone. But initially, the move caused market jitters and set off a downward adjustment of the yuan.
The central bank has increased the transparency of the new mechanism and enhanced communication with the market since the beginning of this year, reducing market fears over yuan depreciation.
Strengthened regulation over capital flows also curbed speculative demand for foreign currency, the BOCOM report said.
Looking forward, it forecast capital outflow pressure to remain in the near future due to increased anticipation for a US interest rate hike and concerns about Britain's possible exit from the European Union.