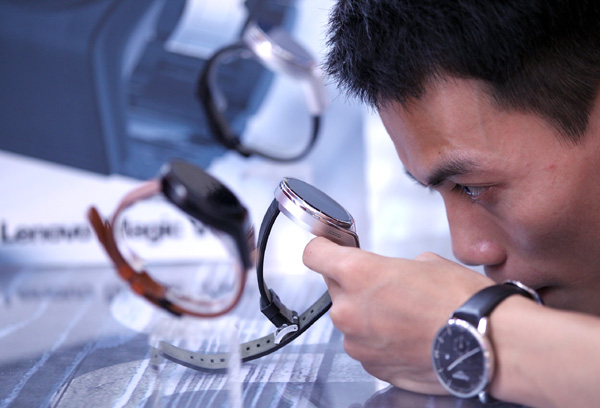 A visitor takes a close look at the smartwatch unveiled by Lenovo Group Ltd in Beijing, May 28, 2015. [Photo/China Daily]
Chinese consumers ranked the companies in the financial and technology industries as the most authentic brands while those in the education and real estate sectors the least authentic, a survey by global communications agency Cohn & Wolfe showed on Thursday.
The survey, which revealed the 100 most authentic brands in China and globally, was part of the firm's global study on the authenticity of the brands in the eyes of consumers.
Financial brands including Bank of China and China Merchants Bank as well as technology brands including Huawei, Alibaba and Baidu made the China Top 100 list. Traditional Chinese medicine brands Tong Ren Tang and Yunnan Baiyao were also ranked high on the list.
On the global basis, Disney, Amazon, Apple, Samsung and Lego broke into the top 10 on the Global Authentic 100 brands while no Chinese brand made in the list, the survey showed.
Nearly 12,000 consumers in 14 markets in the United States, Europe, Asia, Latin America and the Middle East were surveyed in the 2016 authenticity study.
The study defined authenticity based on three major attributes: reliable (delivers on promises, high quality), respectful (treats customers well, protects privacy and data) and real (genuine, communicates honestly, acts with integrity).
The survey showed that Chinese consumers are the least cynical toward brands as 36 percent of them believe that brands and companies are "open and honest" while the number is 23 percent in the US, 13 percent in Singapore, 7 percent in Germany and 5 percent in Sweden.
The attribute of "being real" ranked more important in China than elsewhere, indicating that Chinese consumers put more value on being genuine and acting with integrity, the survey showed.