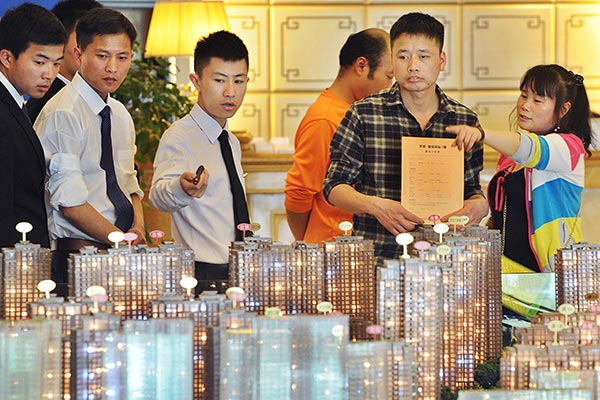 Residents in Hangzhou, capital of Zhejiang province, visit a model of a commercial property project.WU YUANFENG / FOR CHINA DAILY
When I started my apartment hunting in Beijing last year, my agent at a top Chinese real estate brokerage with a transaction value of 700 billion yuan ($108 billion) in 2015, soon equipped me with an effective weapon-a friend of his, who pretended to be another potential buyer.
The agent told me if I like the apartment, he could ask his "potential buyer" friend to offer the owner a low price, which would certainly make the owner lose his confidence about the market.
"Then you can offer a slightly higher price. It can help you get a better deal," he said.
That was the time when I realized that buying an apartment, especially in China's first-tier cites like Beijing and Shanghai, is a war not only financially but also psychologically.
I understand that all agents need to be smart to successfully complete a deal.
But I don't think being smart means making people anxious and tricking them into business decisions by hiding part of the information or providing them fake information.
So as housing prices in big cities have continued to soar since the Spring Festival, I wonder if it's because of people's real need, or a herd mentality, or both.
Take my one-year house-hunting experience as an example, the "potential buyer friend" strategy is only one of their moves.
Sometimes, in order to successfully sell an apartment, different agents will take all their potential buyers to check the same place, staging a "it-is-in-high-demand" show.
So you think it would be a better idea to talk to more agents in order to get a bigger picture of the market situation?
I have met different agents in different areas in Beijing since the beginning of 2014, but they all told me the same thing-"you need to hurry up, otherwise the housing prices will get higher and higher".
The truth is that the property market in 2014 in Beijing was rather sluggish, with the number of secondhand apartments sold in the year down by 30 percent.
But still, every time I saw an apartment, the agent pushed me to take the plunge, telling me "you will regret if you don't buy this one". Or after one day or two, before I even asked, they told me that the apartments I just saw had already been sold.
Working with other real estate brokerages could be anther option. But the market has been dominated by a couple of leaders in major cities, including Beijing, Shanghai and Shenzhen.
Smaller players do not have an abundant pool of listed apartments.
So if all the agents thought along the same lines as the ones I've met, this could mean serious trouble, as dodgy deals and poor quality of service will hurt both customers and the business.
There is need for more third-party organizations to provide independent information about the secondhand property market.
Up till now, most the information regarding prices and transactions is from brokers.
One year later, the bad shopping experience still haunts me. Through WeChat, my agents keep sending me photos of the long queue waiting outside the property-trading center due to the hot market or articles projecting a booming property market.
The thing is that I don't want to block them as I need advice and I haven't abandoned my search for my dream house.