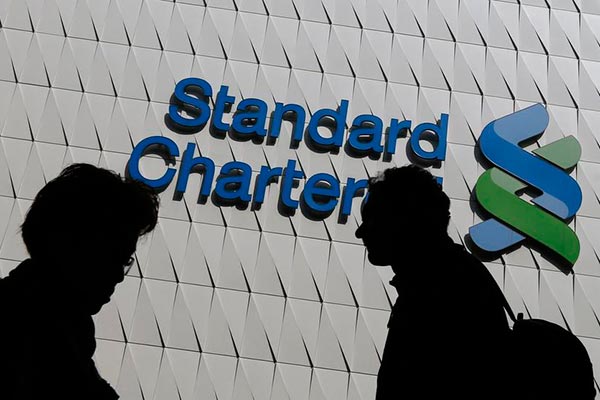 Passersby walk in front of the main branch of Standard Chartered in Hong Kong, January 8, 2015.[Photo/Agencies]
Standard Chartered Plc is seeking to sell at least $4.4 billion of its assets in Asia, people with knowledge of the matter said, as the lender pares its balance sheet after booking record impairments.
The London-based bank is in talks with potential buyers for about $1.4 billion of stressed loans extended to Indian companies including GMR Infrastructure Ltd, according to the people, who asked not to be identified as the information is private. Standard Chartered has also started a sale of around $3 billion of assets in the rest of Asia, one of them said.
Chief Executive Officer Bill Winters has pledged to review all of Standard Chartered's business lines and customer relationships, ranking their risk and returns, with the aim of restructuring or jettisoning about $100 billion of assets. In February, the bank posted its first annual loss since 1989 as revenue fell and loan impairments nearly doubled to the highest in its history.
Special-situations funds including Hong Kong's SSG Capital Management have expressed interest in the stressed Indian loans being sold by Standard Chartered, which include borrowings in both rupees and US dollars, the people said. KKR & Co was previously in talks with Standard Chartered about buying some of the Indian assets and may consider returning to the process, one of the people said.
The assets being sold in the rest of Asia include loans as well as proprietary bond and equity investments in China, Indonesia and Malaysia, one person said. The bank is also seeking to sell part of its portfolio in Africa and the Middle East.
"We said in November when we announced our strategic review that we would be aligning our risk profile to the new strategy, and confirmed then that the group had identified a number of exposures for liquidation that exceeded the new risk tolerance levels," Standard Chartered said in a statement. "We are making good progress on executing our strategy, and we will provide an update to our investors in due course."
KKR and SSG Capital declined to comment, while a spokesman for GMR said the company was "unaware of any such developments".
The stressed Indian portfolio Standard Chartered is selling includes loans to more than 10 companies, primarily from the infrastructure and power industries, that the bank has already made provisions for, one of the people said. The lender may sell just part of the portfolio, depending on demand from buyers.
Standard Chartered already sold off about $1 billion of low-yielding assets in India last year as part of its balance-sheet management, one of the people said. It recently decided not to proceed with a planned sale of at least $1.5 billion in non-stressed loans made to mid-market Indian companies, after testing buyer interest in the portfolio earlier this year, the person said.