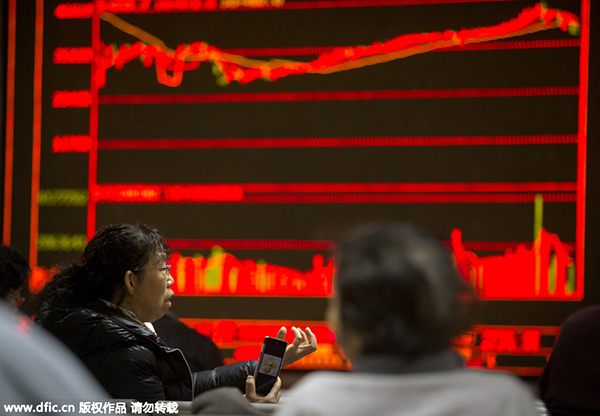 An investor looks at stock prices in a brokerage house in Beijing, Jan 8, 2016. [Photo/IC]
Hong Kong, Shenzhen and Shanghai stock exchanges are among the world's top five in terms of amount raised in initial public offerings (IPOs) in the first quarter, said professional service firm Deloitte.
Hong Kong Stock Exchange occupies the throne, with 19 companies raising HK$27.8 billion (23.22 billion yuan) in their initial public offerings. London and Tokyo bourses trailed as the second and the third.
The mainland stock exchanges altogether saw the debuts of 24 firms in the first quarter, raising a combined 11.7 billion yuan, according to the report. The amount raised declined 76 percent year-on-year due to regulatory control on offering size and the rhythm of issuance.
Shenzhen bourse surpassed Shanghai in the first quarter, with a total of 15 firms listed that raising 6.6 billion yuan, while the latter saw nine IPOs raising 5.1 billion yuan, according to the report.
Among the Shenzhen listings, six firms listed on the Small & Medium Enterprise Board and nine on the Growth Enterprise Market, with offering size averaging 652 million yuan and 297 million yuan, respectively.
As many as 723 companies are still lining up for listing approval, said Deloitte citing official figures. It expects to see a total of 180 to 220 mainland IPOs this year.
Manufacturers account for 34 percent of newly listed firms in the mainland, followed by TMT (telecommunication, media and tech) sectors taking 29 percent.
The IPO approval will likely to speed up modestly, with small and medium-sized tech and manufacturing companies most popular, said the report.